Las Vegas Strip Map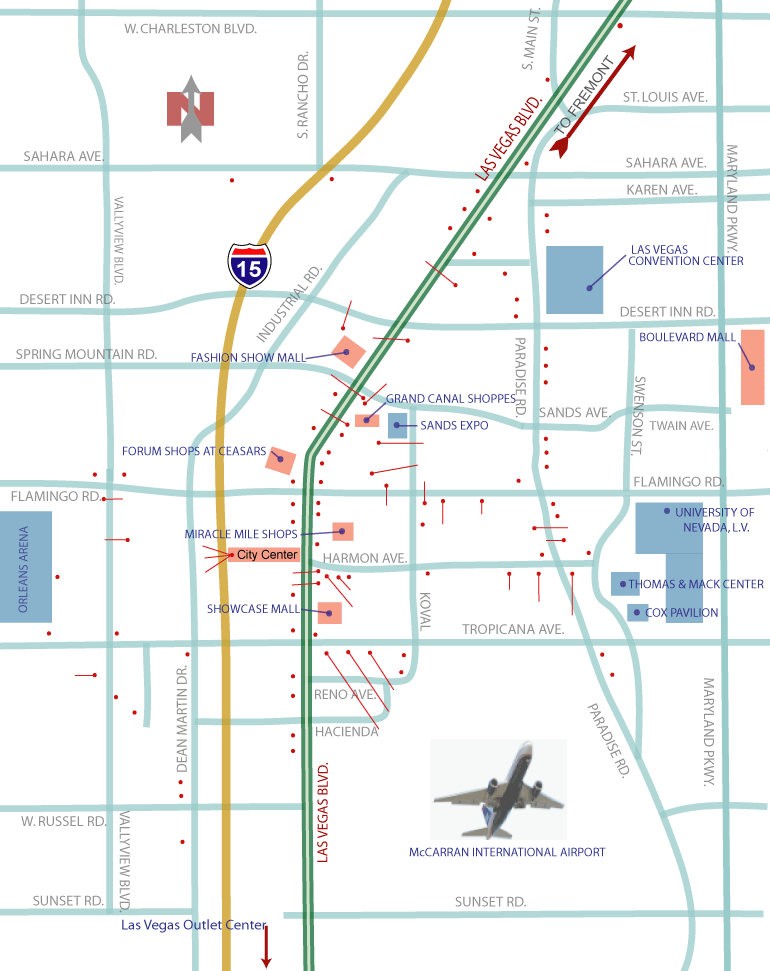 Get Started with

"Shows"

Click the links in the left column or on

the map to find shows & tickets on the

Las Vegas Strip.

Or rollover this icon

Aria
Alexis
Ambassador
America's Best Value
Artisan
Aruba Hotel & Spa
Atrium
Ambassador Strip Travelodge
Bally's
Bellagio
Best Western Mardi Gras
Best Western McCarran
Bill's Gamblin
Caesars Palace
Cancun Resort
Candlewood Suites
Carriage House
Casino Royal
Circus Circus
Clarion
Comfort Inn
Courtyard
Courtyard
Embassy
Suites
Embassy
Emerald
Suites
Emerald Suites
Tropicana
Encore at Wynn
Excalibur
Extended Stay
Deluxe
Fairfield Inn
Fairfield
Flamingo
Four Seasons
Gold Coast
Hampton Inn
Hard Rock
Harrah's
Desert Rose
Hilton Grand Vac.
Hilton Grand Vac.
Hilton Grand Vac.
Holiday Inn
Hooters Casino & Hotel
Howard Johnson
Hyatt Place
Imperial Palace
Jockey Club
La Quinta
La Quinta
Las Vegas Hilton
Luxor
Mandalay Bay
Mandarin
MGM Grand
Marriot Suites
Marriot Grand
Mirage
Monte Carlo
New York
New York
Orleans
The Palms
Palace Station
Palazzo
Paris
Planet Hollywood
Platinum
Polo Towers
Renaissance
Residence Inn
Residence Inn
Residence Inn
Rio
Riviera
Royal Vacations Suites
Sahara
Signature
Stratosphere
St Tropez
Summer Bay
Super 8
Terrible's
Travelodge
Treasure Island
Tropicana
Trump
Tuscany
Vdara
Venetian
Villa Roma
Westin
Wild Wild West
Wyndham
Wynn Las Vegas

KA by Cirque de Soleil at the MGM Hotel
KA by Cirque de Soleil astonishes at MGM... Bravo!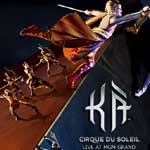 KA is a heroic yet poignant tale of love, conflict and unity. The production begins with a festival celebrating the return of the young Imperial Twins. Upon their return, the palace is sieged by enemy Archers and Spearmen. The Twins flee on a ship but are separated in a storm when the ship sinks. They each embark on a journey of discovery and adversity not knowing if the other survived. They separately seek their way back and reclaim their palace.
The show is an amazing display of engineering and choreography incorporating several types of acrobatics and martial arts. The gravity-defying production, KA by Cirque du Soleil, is set within a dynamic theatrical landscape. The entire empire, storm scenes, beach, mountain cliff, blizzard, escape flight, imprisonment, majestic forest, battle scenes and firework displays are created on KA's colossal stage at MGM Grand Las Vegas.
KA lacks a conventional stage with a permanent floor, instead it is a combination of unique floating stages. The specially-designed boat weighs almost 1800 pounds. Its turning movements and rocking motions are manipulated by the performers onboard. The rough sea's air bubbles are created by interactive video projections and sensors that react to the movement of the performers.
The expert use of technology, artistry, puppetry, and innovative acrobatic feats come together to create a powerful theatrical production that is astounding and captivating.
KA is brought to life by 80 artists from around the world, with scenic elements and costumes inspired by diverse cultures. The music is ageless, energetic and portrays the emotions and moods intended. Words are not spoken, instead music and sound are the mediums used to provoke feelings of drama, passion, emergency, serenity and love.
KA by Cirque du Soleil, an unprecedented, gravity-defying production will transport you to an all new level of adventure and of discovery.
Experience KA by Cirque du Soleil at MGM Grand. Las Vegas shows sell out fast. Book early to get the best seats.
Las Vegas Power Pass

The Las Vegas Power Pass offers huge savings off admission fees to the largest
selection of top Las Vegas shows, restaurants and attractons. Skip the lines at
many locations and save time and money.



Half Price Shows

Purchase shows, tours, and attraction tickets for 50% off box office price. With HalfPriceShows there is no reason to pay full price or stand in lines. New items are added regularly. Buy discount tickets online!



Club Viva Las Vegas

NO cover charges. NO waiting in lines. Nightlife connection to the hottest clubs. Luxury transportation, VIP entrance with host and cocktails onboard. Hit three clubs for $49. Bachelor & bachelorette party specials. They get you in!



Vegas Bite Card

Save Over $500 on Shows, Tours, Attractions, Restaurants, Golf and Weddings! Half price shows and food. Unlimited use for one year. Card with no coupons. Show your card to receive discounts. The premium discount card for Las Vegas.



Las Vegas Perks

Experience Las Vegas at half price with Las Vegas Perks coupon book. For one low price, you'll receive a discount book worth over $1,200 in "2 for 1" Las Vegas dining, shows, tours, attractions, gaming credits and match play certificates.



Golf Card International

Savings on golf at nearly 3,000 golf courses. Up to 50% savings on cart and green fee for two rounds per year at an additional 2,400 courses. Newsletter and 20% savings on product purchases.