Las Vegas Strip Map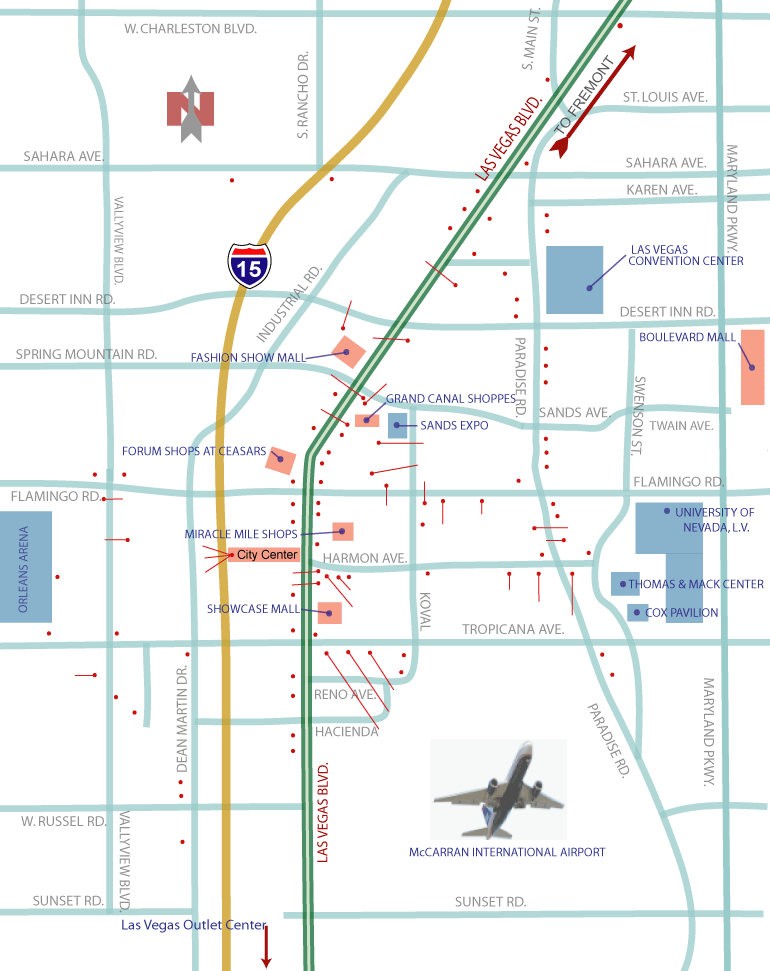 Get Started with

"Shows"

Click the links in the left column or on

the map to find shows & tickets on the

Las Vegas Strip.

Or rollover this icon

Aria
Alexis
Ambassador
America's Best Value
Artisan
Aruba Hotel & Spa
Atrium
Ambassador Strip Travelodge
Bally's
Bellagio
Best Western Mardi Gras
Best Western McCarran
Bill's Gamblin
Caesars Palace
Cancun Resort
Candlewood Suites
Carriage House
Casino Royal
Circus Circus
Clarion
Comfort Inn
Courtyard
Courtyard
Embassy
Suites
Embassy
Emerald
Suites
Emerald Suites
Tropicana
Encore at Wynn
Excalibur
Extended Stay
Deluxe
Fairfield Inn
Fairfield
Flamingo
Four Seasons
Gold Coast
Hampton Inn
Hard Rock
Harrah's
Desert Rose
Hilton Grand Vac.
Hilton Grand Vac.
Hilton Grand Vac.
Holiday Inn
Hooters Casino & Hotel
Howard Johnson
Hyatt Place
Imperial Palace
Jockey Club
La Quinta
La Quinta
Las Vegas Hilton
Luxor
Mandalay Bay
Mandarin
MGM Grand
Marriot Suites
Marriot Grand
Mirage
Monte Carlo
New York
New York
Orleans
The Palms
Palace Station
Palazzo
Paris
Planet Hollywood
Platinum
Polo Towers
Renaissance
Residence Inn
Residence Inn
Residence Inn
Rio
Riviera
Royal Vacations Suites
Sahara
Signature
Stratosphere
St Tropez
Summer Bay
Super 8
Terrible's
Travelodge
Treasure Island
Tropicana
Trump
Tuscany
Vdara
Venetian
Villa Roma
Westin
Wild Wild West
Wyndham
Wynn Las Vegas

Blue Man Group at the Venetion Hotel
Blue Man Group performs at the Venetian... Boom Boom Boom!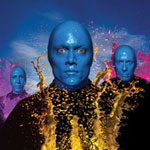 Blue Man Group is now playing at the Venetian Las Vegas. The show is energetic and colorful, with powerful music, multimedia theatrics, comedy, and incorporates thought-provoking satire on modern life
The show features a trio of performers called Blue Men. They are mute performers that have a static appearance and deep blue skin. They have no hair or ears, which makes their facial expressions and eyes even more dramatic.
The Blue Men enter the stage garbed in black clothing, and start the fast paced fun by drumming fiercely on top of brightly colored paint. The paint splashes wildly, more sprays flow from their mouths, and rubber paint filled balls are tossed to each other across the stage. The paint sprays create an exciting and artistic scene.
Audience participation is encouraged. Willing audience members may be brought on stage to participate. And, The Blue Men may walk intimately into the audience to invoke reactions. Since the Blue Men do not speak, they constantly play off and respond to the crowd's mood and reactions.
To create their trademark primitive, tribal percussion music, they use some unusual and non-traditional specially-designed instruments.
One is the Cimbalom, a delicate antique instrument from Hungary. You may see a Blue Man hit is with drum sticks to create an edgier sound. The Chapman Stick is one of the most utilized string instruments. A custom-built, 81-string Zither is composed of a harp and chord section. The characteristic dense sound resonates similar to an electric guitar played with a slide. Blue Man Group's zither is wider, deeper in note range and utilizes more strings than a typical zither.
The custom musical instruments may be designed from common materials, such as PVC pipes that make interesting noises when struck properly. Airpoles are swung sharply to create a "swoosh" sound. These are hollow fiberglass boat antenna of various lengths. It takes very precise muscle control to master the unusual instruments Blue Man uses.
Blue Man show incorporates rock music with an emphasis on percussion, sophisticated lighting, odd props, lots of paint and color, and humor. The shows are family oriented and energetic.
If you decide on a "poncho" section, you may need to wear the plastic poncho provided to protect you from the various flying substances thrown, sprayed or ejected from the stage. It's fun.
Blue Man Group is playing at the Venetian Las Vegas. Show tickets sell out fast. Book early for best seats.
Las Vegas Power Pass

The Las Vegas Power Pass offers huge savings off admission fees to the largest
selection of top Las Vegas shows, restaurants and attractons. Skip the lines at
many locations and save time and money.



Half Price Shows

Purchase shows, tours, and attraction tickets for 50% off box office price. With HalfPriceShows there is no reason to pay full price or stand in lines. New items are added regularly. Buy discount tickets online!



Club Viva Las Vegas

NO cover charges. NO waiting in lines. Nightlife connection to the hottest clubs. Luxury transportation, VIP entrance with host and cocktails onboard. Hit three clubs for $49. Bachelor & bachelorette party specials. They get you in!



Vegas Bite Card

Save Over $500 on Shows, Tours, Attractions, Restaurants, Golf and Weddings! Half price shows and food. Unlimited use for one year. Card with no coupons. Show your card to receive discounts. The premium discount card for Las Vegas.



Las Vegas Perks

Experience Las Vegas at half price with Las Vegas Perks coupon book. For one low price, you'll receive a discount book worth over $1,200 in "2 for 1" Las Vegas dining, shows, tours, attractions, gaming credits and match play certificates.



Golf Card International

Savings on golf at nearly 3,000 golf courses. Up to 50% savings on cart and green fee for two rounds per year at an additional 2,400 courses. Newsletter and 20% savings on product purchases.