Las Vegas Strip Map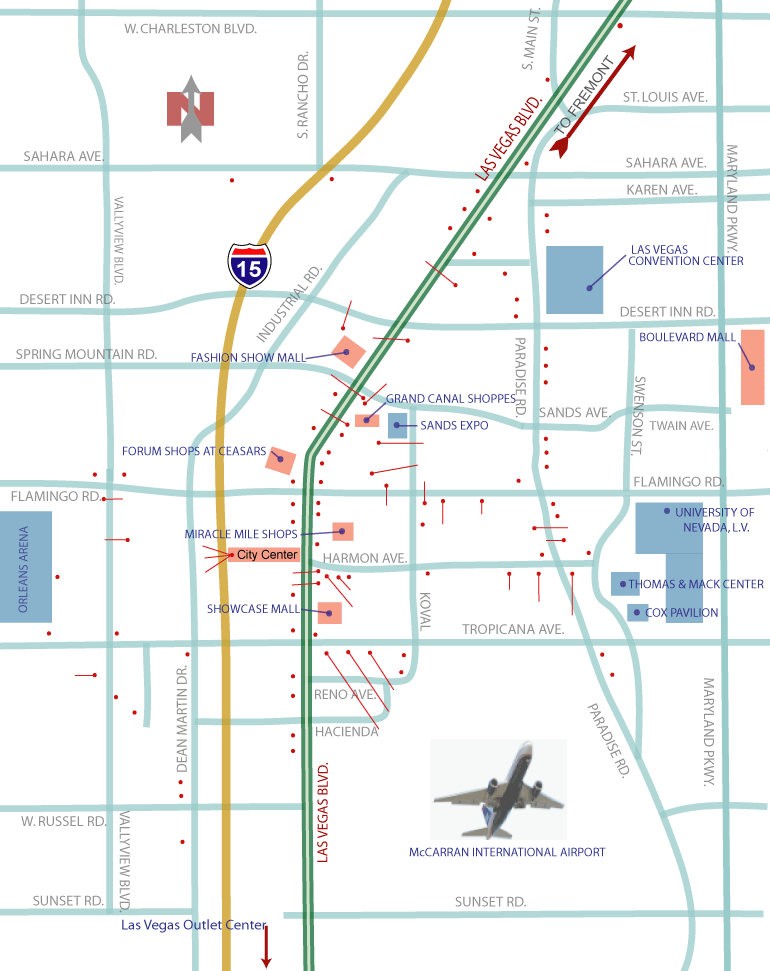 Get Started with

"Nightlife"

Click the links in the left column or on

the map to find Las Vegas bars & clubs

on the

Las Vegas Strip.

Or rollover this icon

Aria
Alexis
Ambassador
America's Best Value
Artisan
Aruba Hotel & Spa
Atrium
Ambassador Strip Travelodge
Bally's
Bellagio
Best Western Mardi Gras
Best Western McCarran
Bill's Gamblin
Caesars Palace
Cancun Resort
Candlewood Suites
Carriage House
Casino Royal
Circus Circus
Clarion
Comfort Inn
Courtyard
Courtyard
Embassy
Suites
Embassy
Emerald
Suites
Emerald Suites
Tropicana
Encore at Wynn
Excalibur
Extended Stay
Deluxe
Fairfield Inn
Fairfield
Flamingo
Four Seasons
Gold Coast
Hampton Inn
Hard Rock
Harrah's
Desert Rose
Hilton Grand Vac.
Hilton Grand Vac.
Hilton Grand Vac.
Holiday Inn
Hooters Casino & Hotel
Howard Johnson
Hyatt Place
Imperial Palace
Jockey Club
La Quinta
La Quinta
Las Vegas Hilton
Luxor
Mandalay Bay
Mandarin
MGM Grand
Marriot Suites
Marriot Grand
Mirage
Monte Carlo
New York
New York
Orleans
The Palms
Palace Station
Palazzo
Paris
Planet Hollywood
Platinum
Polo Towers
Renaissance
Residence Inn
Residence Inn
Residence Inn
Rio
Riviera
Royal Vacations Suites
Sahara
Signature
Stratosphere
St Tropez
Summer Bay
Super 8
Terrible's
Travelodge
Treasure Island
Tropicana
Trump
Tuscany
Vdara
Venetian
Villa Roma
Westin
Wild Wild West
Wyndham
Wynn Las Vegas

Night Clubs
Rain Nightclub
at The Palms Hotel
4321 W Flamingo Rd
Las Vegas, NV 89103
Rain is a 25,000 square foot multi-level contemporary nightclub and concert venue. It begins at the casino level of the Palms. There are performances held by international headliners in this electrifying dance club, along with
resident DJ music.
Rain Nightclub website

Rain Nightclub

Rain offers a multi-sensory experience with powerful special effects. Enter Rain through a tunnel of gold mirrored mosaic. Color-changing lights, fog and sounds echoing the club's energy within may be felt.

The effects continue throughout the club atmosphere. Lavish special effects such as pyrotechnic, more hazy fog and spectacular water elements add interest and excitement.

The furnishings are ultra sleek with a vibrant color scheme of gold, red, black, purple and orange. The vibe holds a tension of energy.

The bamboo dance floor is surrounded by a computer-simulated river of water, dancing jets and fountains. Behind the performance stage is a 16 foot color-changing wall of water.

A variety of private areas may be found. VIP areas with private cabanas and a large bar, offer a view of the Las Vegas Strip.

Skyboxes on the mezzanine VIP level have private balconies that overlook the nightclub below. Access via a private elevator with a thumbprint scanner. The Waterbooth level features sensuous patent leather banquettes filled with water.

Rain offers a dynamic nightclub venue, as well as private get away places throughout the club.

Attire is fashionable dressy.