Las Vegas Strip Map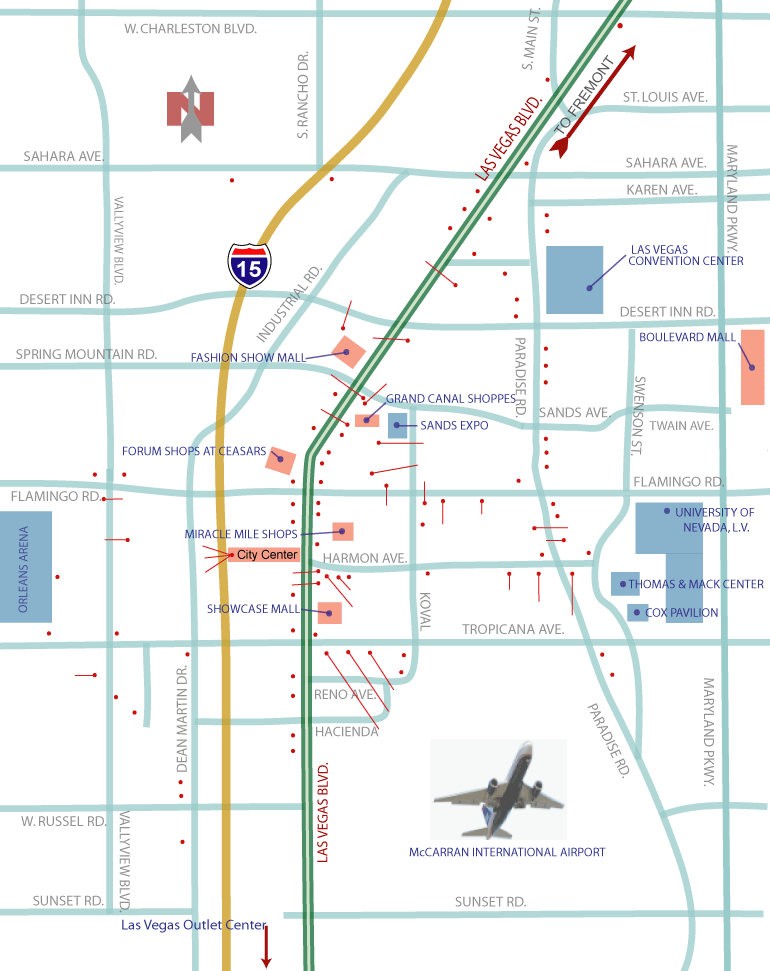 Get Started with

"Nightlife"

Click the links in the left column or on

the map to find Las Vegas bars & clubs

on the

Las Vegas Strip.

Or rollover this icon

Aria
Alexis
Ambassador
America's Best Value
Artisan
Aruba Hotel & Spa
Atrium
Ambassador Strip Travelodge
Bally's
Bellagio
Best Western Mardi Gras
Best Western McCarran
Bill's Gamblin
Caesars Palace
Cancun Resort
Candlewood Suites
Carriage House
Casino Royal
Circus Circus
Clarion
Comfort Inn
Courtyard
Courtyard
Embassy
Suites
Embassy
Emerald
Suites
Emerald Suites
Tropicana
Encore at Wynn
Excalibur
Extended Stay
Deluxe
Fairfield Inn
Fairfield
Flamingo
Four Seasons
Gold Coast
Hampton Inn
Hard Rock
Harrah's
Desert Rose
Hilton Grand Vac.
Hilton Grand Vac.
Hilton Grand Vac.
Holiday Inn
Hooters Casino & Hotel
Howard Johnson
Hyatt Place
Imperial Palace
Jockey Club
La Quinta
La Quinta
Las Vegas Hilton
Luxor
Mandalay Bay
Mandarin
MGM Grand
Marriot Suites
Marriot Grand
Mirage
Monte Carlo
New York
New York
Orleans
The Palms
Palace Station
Palazzo
Paris
Planet Hollywood
Platinum
Polo Towers
Renaissance
Residence Inn
Residence Inn
Residence Inn
Rio
Riviera
Royal Vacations Suites
Sahara
Signature
Stratosphere
St Tropez
Summer Bay
Super 8
Terrible's
Travelodge
Treasure Island
Tropicana
Trump
Tuscany
Vdara
Venetian
Villa Roma
Westin
Wild Wild West
Wyndham
Wynn Las Vegas

Night Clubs
Playboy Club
at The Palms Hotel
4321 W Flamingo Rd
Las Vegas, NV 89103
The Playboy Club combines high stakes gaming and nightlife to create a unique Las Vegas experience.
It is located on the 52nd floor of the Fantasy Tower of the Palms. The club features floor to ceiling windows that offer an expansive view of the Las Vegas area.
Playboy Club website

Playboy Club

The décor is sophisticated with rich, dark colors, crystal chandeliers and plush sofas. The trademark Playboy Bunny logo is displayed throughout the club's interior. The massive neon bunny head is prominently featured on the side of the building.

Bunny costumed servers mingle throughout the club. Plasma screens display visual images of Playboy magazine highlights.

Blackjack and roulette tables are the featured games at the Playboy club, with Playboy bunny female dealers. You'll enjoy an assortment of beautiful cottontails and cuffs here.

DJ music plays softly so patrons may enjoy a relaxed atmosphere conducive for conversation. Attire is fashionable and upscale.

There is an exclusive VIP area with a fireplace and its own bar.