Las Vegas Strip Map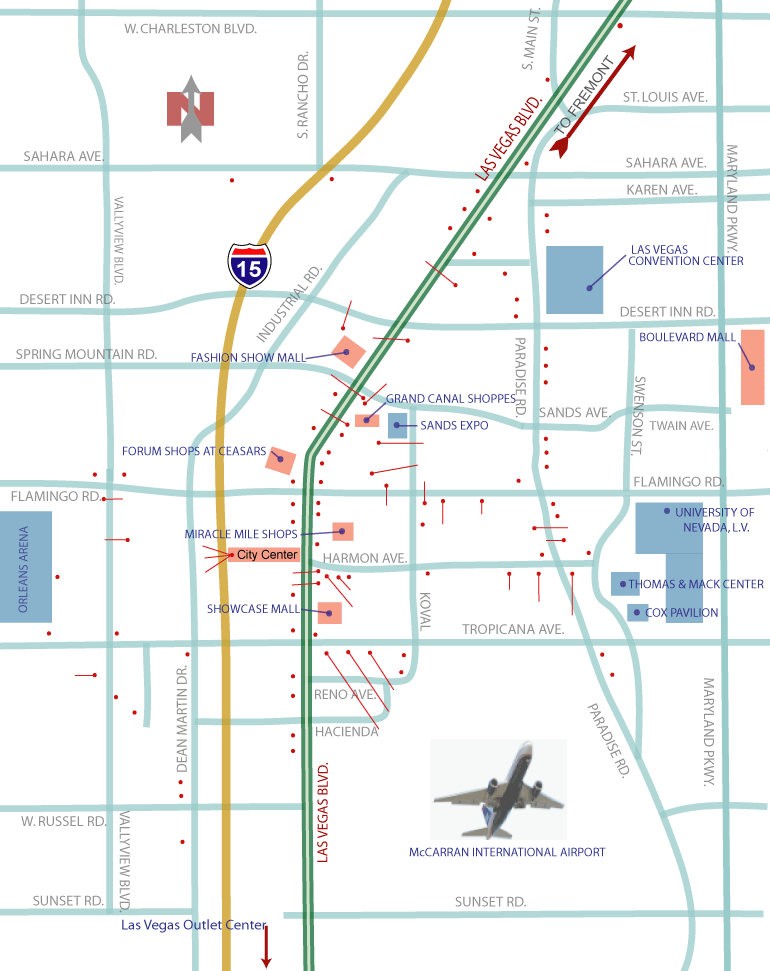 Get Started with

"Nightlife"

Click the links in the left column or on

the map to find Las Vegas bars & clubs

on the

Las Vegas Strip.

Or rollover this icon

Aria
Alexis
Ambassador
America's Best Value
Artisan
Aruba Hotel & Spa
Atrium
Ambassador Strip Travelodge
Bally's
Bellagio
Best Western Mardi Gras
Best Western McCarran
Bill's Gamblin
Caesars Palace
Cancun Resort
Candlewood Suites
Carriage House
Casino Royal
Circus Circus
Clarion
Comfort Inn
Courtyard
Courtyard
Embassy
Suites
Embassy
Emerald
Suites
Emerald Suites
Tropicana
Encore at Wynn
Excalibur
Extended Stay
Deluxe
Fairfield Inn
Fairfield
Flamingo
Four Seasons
Gold Coast
Hampton Inn
Hard Rock
Harrah's
Desert Rose
Hilton Grand Vac.
Hilton Grand Vac.
Hilton Grand Vac.
Holiday Inn
Hooters Casino & Hotel
Howard Johnson
Hyatt Place
Imperial Palace
Jockey Club
La Quinta
La Quinta
Las Vegas Hilton
Luxor
Mandalay Bay
Mandarin
MGM Grand
Marriot Suites
Marriot Grand
Mirage
Monte Carlo
New York
New York
Orleans
The Palms
Palace Station
Palazzo
Paris
Planet Hollywood
Platinum
Polo Towers
Renaissance
Residence Inn
Residence Inn
Residence Inn
Rio
Riviera
Royal Vacations Suites
Sahara
Signature
Stratosphere
St Tropez
Summer Bay
Super 8
Terrible's
Travelodge
Treasure Island
Tropicana
Trump
Tuscany
Vdara
Venetian
Villa Roma
Westin
Wild Wild West
Wyndham
Wynn Las Vegas

Night Clubs
RIO Las Vegas
3700 W Flamingo Rd
Las Vegas, NV 89103
Flirt
Cocktail lounge and haven for women after Chippendales Male Review. A good place for men looking for women. All male wait staff.
Flirt
♠

I-Bar Cocktail bar

IBar is a casual retreat off the casino floor. They offer eye catching tech features that include Microsoft computer technology on touch-screen table surfaces

I-Bar Cocktail bar
McFadden's Restaurant & Saloon
Irish-style pub, fishbowl cocktails, dancing and live DJ entertainment.
McFadden's Restaurant & Saloon
VooDoo Beach
Poolside bar, live DJ or music, and Happy Hour. (See our "Pools" tab for more pool details)
VooDoo Beach
♠

VooDoo Lounge

VooDoo Lounge is located at the top of Rio Suites Masquerade Tower. Ride up the glass elevator to the VooDoo Lounge located directly above its restaurant. The lounge is positioned on the 51st floor and provides an incredible view of the Las Vegas area.

VooDoo Lounge

I-Bar Nightclub

This ultra lounge offers unique table computing devices with a 30 inch touch-response screen. These allow patrons to flirt with other people within the lounge, order drinks, concoct cocktails, watch YouTube videos, play games with other guests, or take a virtual stroll down the Las Vegas strip.

This cutting edge technology allows patrons to take flirting or meeting new people to an innovative level. The "Flirt" feature lets people choose from suggested come-on lines or create their own original messages.

The surface technology connects people in a unique social and entertainment space.

There are video cameras at each surface that allow guests to take and send photos across the lounge. The "Head Games" function offers play-for-fun games with scoreboard that encourage a whole group to play together. Games may include a musical memory game, multiplayer pinball and bowling.

Entertaining mixologists and female servers dressed in revealing outfits add a playful vibe. An eclectic mix of music plays a variety of top 40 hits, hip hop and house songs.

I-Bar offers bottle service. Attire is casual
VooDoo Lounge Nightclub

The décor is dark and intimate with faux primitive paintings and symbols, inspired of magic and witchery. Black lights enhance the interior's ambiance.

Flair bartenders entertain guests while they conjure up potions called Third Eye, Sexual Trance and Witch Doctor. The cocktails are delicious and mesmerizing.

Step outdoors onto its multi-tiered patio that is connected by a 20-ton ironwork staircase. Go Go dancers entertain guests as they shake their way up this stairway to the stars.

VIP tables and bottle service is available. VooDoo has a live house band and nightly DJ.

Its mystical sights, sounds and flavors will surely cast you under its spell.

Attire is business casual.