Las Vegas Strip Map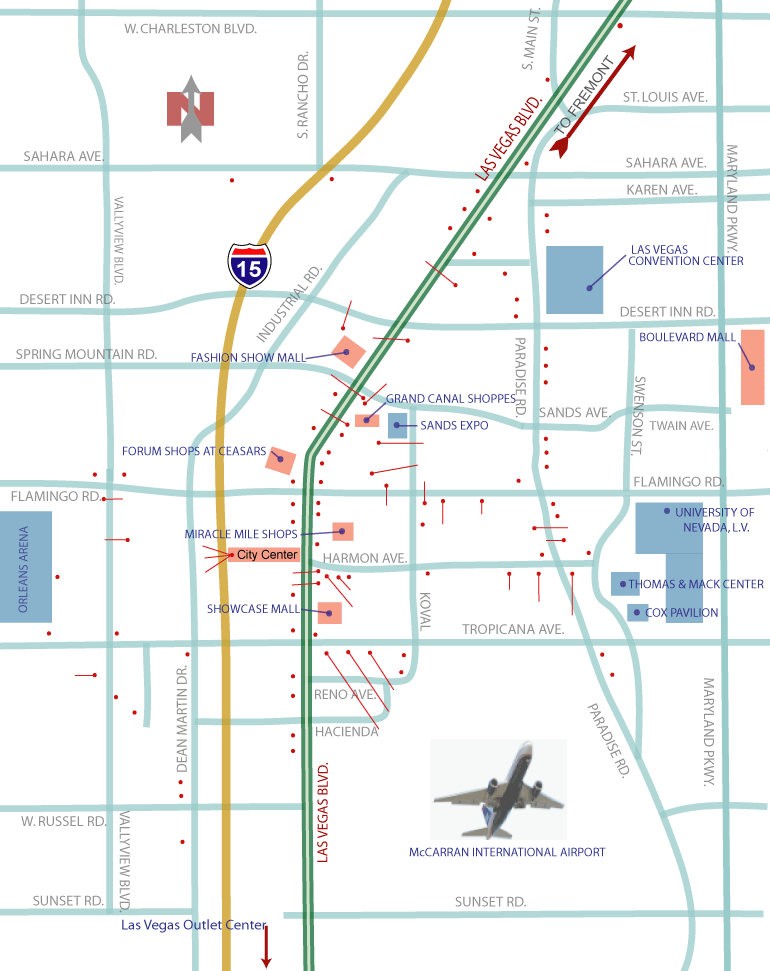 Get Started with

"Nightlife"

Click the links in the left column or on

the map to find Las Vegas bars & clubs

on the

Las Vegas Strip.

Or rollover this icon

Aria
Alexis
Ambassador
America's Best Value
Artisan
Aruba Hotel & Spa
Atrium
Ambassador Strip Travelodge
Bally's
Bellagio
Best Western Mardi Gras
Best Western McCarran
Bill's Gamblin
Caesars Palace
Cancun Resort
Candlewood Suites
Carriage House
Casino Royal
Circus Circus
Clarion
Comfort Inn
Courtyard
Courtyard
Embassy
Suites
Embassy
Emerald
Suites
Emerald Suites
Tropicana
Encore at Wynn
Excalibur
Extended Stay
Deluxe
Fairfield Inn
Fairfield
Flamingo
Four Seasons
Gold Coast
Hampton Inn
Hard Rock
Harrah's
Desert Rose
Hilton Grand Vac.
Hilton Grand Vac.
Hilton Grand Vac.
Holiday Inn
Hooters Casino & Hotel
Howard Johnson
Hyatt Place
Imperial Palace
Jockey Club
La Quinta
La Quinta
Las Vegas Hilton
Luxor
Mandalay Bay
Mandarin
MGM Grand
Marriot Suites
Marriot Grand
Mirage
Monte Carlo
New York
New York
Orleans
The Palms
Palace Station
Palazzo
Paris
Planet Hollywood
Platinum
Polo Towers
Renaissance
Residence Inn
Residence Inn
Residence Inn
Rio
Riviera
Royal Vacations Suites
Sahara
Signature
Stratosphere
St Tropez
Summer Bay
Super 8
Terrible's
Travelodge
Treasure Island
Tropicana
Trump
Tuscany
Vdara
Venetian
Villa Roma
Westin
Wild Wild West
Wyndham
Wynn Las Vegas

Night Clubs
MIRAGE Las Vegas
3400 Las Vegas Blvd S
Las Vegas, NV 89109
High Limit Lounge
High Limit Lounge, casual full bar and private buffet with plush seating.
High Limit Lounge
Bare
European-style sun bathing, DJ music, cocktail service throughout pool area, food menu and European bottle service. Admission fee applies. (see our "Pools & Spa" tab for more information about Bare).
Bare European-style sun bathing
Japonais
Restaurant Lounge Glamorous modern tropical theme, 110-foot glowing fire wall made of glass, water elements, shimmering drapery, DJ music, overlooks casino floor, Sushi and small plate selection and signature drinks.
Japonais
♠

Jet Nightclub

Modern multi-level nightclub with  light and laser grid cryogenic effects system. There are three distinct rooms with  dance floors and DJ areas (Room 1: rock, hip hop and popular, Room 2: international DJ,

Room 3: varies from 80s to rock),

JET
Kokomo's Lounge
Casual but exotic bar set in a tropical rainforest theme with towering palms and a waterfall.
Kokomo's Lounge
Onda
Wine and Cheese Lounge Italian-inspired casual lounge, wine selections, artisan cheeses and meats.
Onda
The Revolution Lounge
The Beatles Revolution Lounge creates a psychedelic sensory environment with a contemporary interpretation of The Beatles era.
The Revolution Lounge
The Sports Bar
Casino bar overlooking Race & Sports Book
The Sports Bar
Other: Rhumbar

Jet Nightclub

Jet Nightclub offers three different dancing venues under one roof. This 15,000 square foot multi-level nightclub caters to a variety of tastes.

There are three unique spaces, each with its own dance floor, sound system and bar. The main room offers rock, hip hop and popular dance music. Another room plays an eclectic mix of DJ music from the 80s to rock. The third room spins DJ house music.

The décor is sleek, ultra modern using vibrant colors, wood and steel. There is a light and laser grid floor and ceiling to help pump up the action. Jet is a fast-paced club with high energy ambiance and a party atmosphere.

Guests can move from one room to the other. You'll enjoy a stunning scene of Go Go girls, elevated dancing poles for amateur fun, intense sound system, cryogenic effects, laser grid technology, projection videos and shot girls.

There are four full service bars. Creative specialty cocktails and European bottle service is available.

Conveniently located between The Mirage's main and north valet entrances. Attire is casual chic to dressy.
Beatles™ Revolution Lounge

It is an evolutionary journey into the music of the era and its culture. DJ music progresses from strictly Beatles to remixes of rock, house, pop and beats popularized in the 70s, 80s and 90s.

This 5,000 square foot ultra lounge has electronic table surfaces. The VIP tables use infrared technology to allow guests to create tabletop artwork with their fingers. The artwork is then projected onto columns throughout the room.

A lyric wall provides a reminiscent account of the words and thoughts of the Beatles. Innovative light and shadow patterns pulsate above the main bar.

The Abbey Road Bar outside the ultra lounge is visible from the casino floor. It offers guests a taste of the Revolution experience within.

Revolution is a great place for Beatles' fans to relive the magic of the 60s, and for young people to discover the lads from Liverpool.

Attire is fashionable nightlife.