Las Vegas Strip Map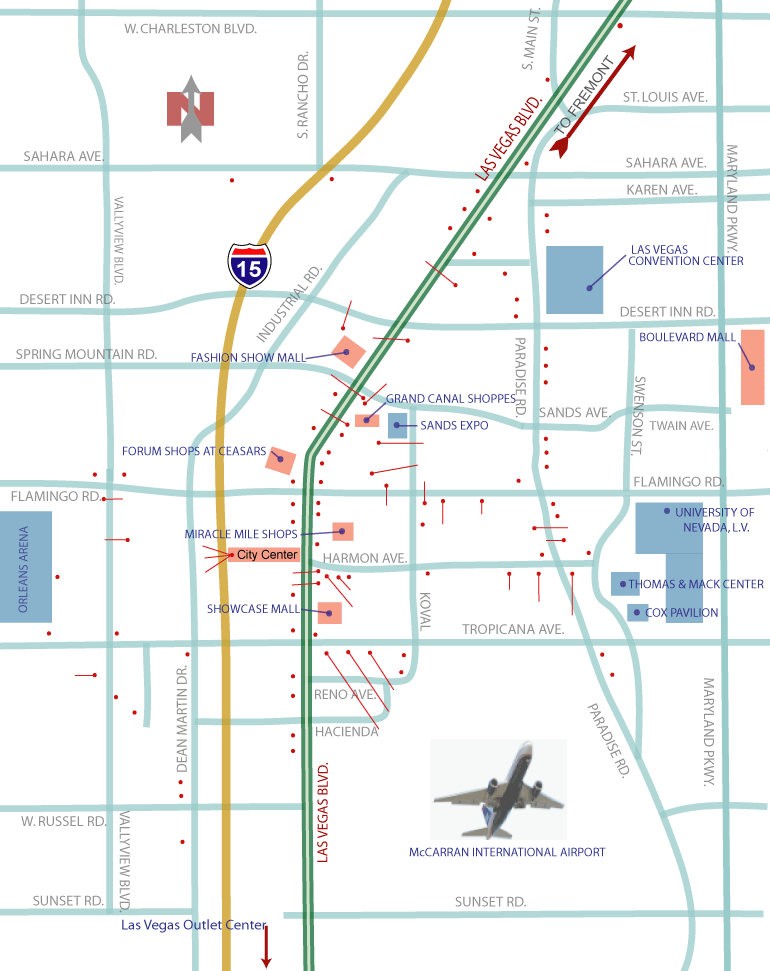 Get Started with

"Shows"

Click the links in the left column or on

the map to find shows & tickets on the

Las Vegas Strip.

Or rollover this icon

Aria
Alexis
Ambassador
America's Best Value
Artisan
Aruba Hotel & Spa
Atrium
Ambassador Strip Travelodge
Bally's
Bellagio
Best Western Mardi Gras
Best Western McCarran
Bill's Gamblin
Caesars Palace
Cancun Resort
Candlewood Suites
Carriage House
Casino Royal
Circus Circus
Clarion
Comfort Inn
Courtyard
Courtyard
Embassy
Suites
Embassy
Emerald
Suites
Emerald Suites
Tropicana
Encore at Wynn
Excalibur
Extended Stay
Deluxe
Fairfield Inn
Fairfield
Flamingo
Four Seasons
Gold Coast
Hampton Inn
Hard Rock
Harrah's
Desert Rose
Hilton Grand Vac.
Hilton Grand Vac.
Hilton Grand Vac.
Holiday Inn
Hooters Casino & Hotel
Howard Johnson
Hyatt Place
Imperial Palace
Jockey Club
La Quinta
La Quinta
Las Vegas Hilton
Luxor
Mandalay Bay
Mandarin
MGM Grand
Marriot Suites
Marriot Grand
Mirage
Monte Carlo
New York
New York
Orleans
The Palms
Palace Station
Palazzo
Paris
Planet Hollywood
Platinum
Polo Towers
Renaissance
Residence Inn
Residence Inn
Residence Inn
Rio
Riviera
Royal Vacations Suites
Sahara
Signature
Stratosphere
St Tropez
Summer Bay
Super 8
Terrible's
Travelodge
Treasure Island
Tropicana
Trump
Tuscany
Vdara
Venetian
Villa Roma
Westin
Wild Wild West
Wyndham
Wynn Las Vegas
Las Vegas Shows
MANDALAY BAY

♠

Disney's Lion King

Visually stunning, colorful spectacular musical performance. A cast of more than 40 actors that bring animals to life, inspire an unforgettable Broadway sensation.
House of Blues
Changing lineup of bands and other live performances (rock, reggae, rap, jazz, blues). Performers have or currently include Josh Turner, Badfish, Michael Bolton, Charlie Murphy, The Pretenders, Big Head Todd & The Monsters, Zappa, and others. The House of Blues
holds a capacity of 1,800 people.
Mandalay Bay Theatre,
Events Center and Beach
The Mandalay Bay Hotel has three more venues. Their 1,600 seat theatre features broadway shows, musicals and comedy headliners. The events center is a sports and entertainment complex. The events center features major sporting events, television specials, concerts and shows. There is a changing lineup in each venue. In addition, there are outdoor performances held at the Beach island stage. Famous performers appear at the Beach.