Las Vegas Strip Map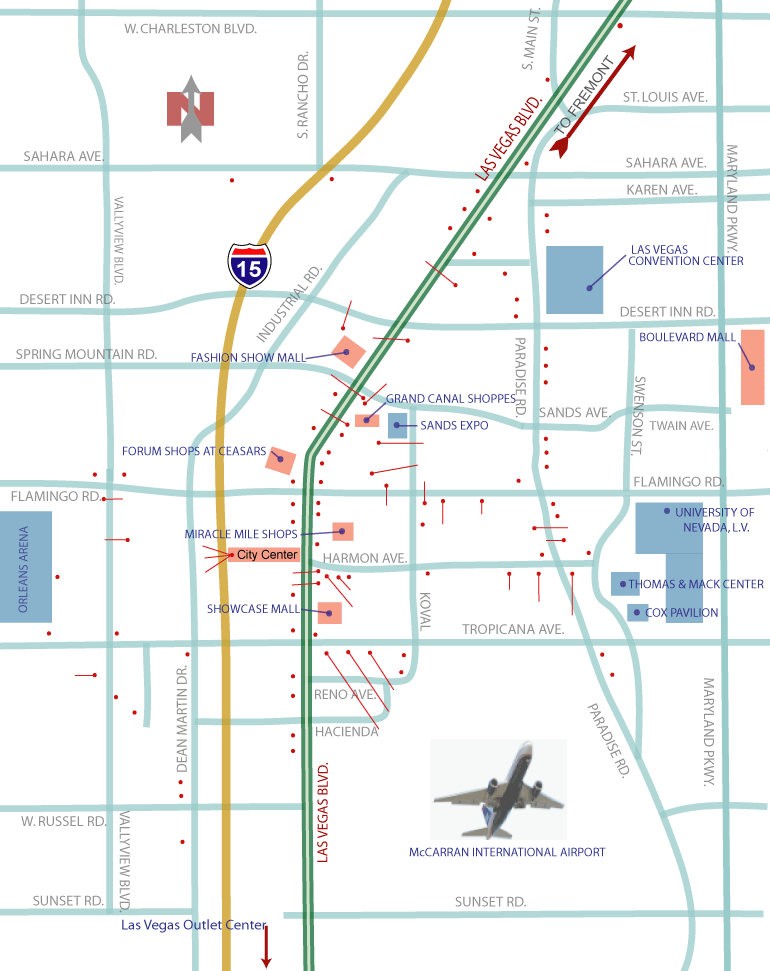 Get Started with

"Shows"

Click the links in the left column or on

the map to find shows & tickets on the

Las Vegas Strip.

Or rollover this icon

Aria
Alexis
Ambassador
America's Best Value
Artisan
Aruba Hotel & Spa
Atrium
Ambassador Strip Travelodge
Bally's
Bellagio
Best Western Mardi Gras
Best Western McCarran
Bill's Gamblin
Caesars Palace
Cancun Resort
Candlewood Suites
Carriage House
Casino Royal
Circus Circus
Clarion
Comfort Inn
Courtyard
Courtyard
Embassy
Suites
Embassy
Emerald
Suites
Emerald Suites
Tropicana
Encore at Wynn
Excalibur
Extended Stay
Deluxe
Fairfield Inn
Fairfield
Flamingo
Four Seasons
Gold Coast
Hampton Inn
Hard Rock
Harrah's
Desert Rose
Hilton Grand Vac.
Hilton Grand Vac.
Hilton Grand Vac.
Holiday Inn
Hooters Casino & Hotel
Howard Johnson
Hyatt Place
Imperial Palace
Jockey Club
La Quinta
La Quinta
Las Vegas Hilton
Luxor
Mandalay Bay
Mandarin
MGM Grand
Marriot Suites
Marriot Grand
Mirage
Monte Carlo
New York
New York
Orleans
The Palms
Palace Station
Palazzo
Paris
Planet Hollywood
Platinum
Polo Towers
Renaissance
Residence Inn
Residence Inn
Residence Inn
Rio
Riviera
Royal Vacations Suites
Sahara
Signature
Stratosphere
St Tropez
Summer Bay
Super 8
Terrible's
Travelodge
Treasure Island
Tropicana
Trump
Tuscany
Vdara
Venetian
Villa Roma
Westin
Wild Wild West
Wyndham
Wynn Las Vegas
Las Vegas Shows
MGM GRAND

♠

"KA" by Cirque du Soleil

This Cirque du Soleil show combines acrobatics, martial arts techniques, puppetry and multimedia in an unprecedented theatrical production. It is an epic tale of twins who embark on a perilous journey to fulfill their shared destiny. Ka by Cirque du Soleil is a magical production.
Crazy Horse Paris
An international collection of 12 beautiful women dance seductively. Stunning light displays and sensuous choreography create a sexy performance.
♠

David Copperfield

Master magician brings magic and grand illusions to an incredible level. He is known to be one of the greatest illusionist of all time. Live performances are held in the Hollywood Theatre of MGM Grand. You'll also find a wax look-alike of David Copperfield in Madame Tousaud's Museum at the Venetian Hotel.
Grand Garden Arena
A changing lineup of performers. The Grand Garden Arena is home to concerts as well as live sporting events. Performances have included Country Music Awards, George Strait, Dave Matthews Band, Britney Spears, Robin Williams, Fleetwood Mac and more.
Hollywood Theatre
The 740 seat Hollywood Theatre features world class entertainment shows nightly. This theatre attracts some of the most well known performers that have included: David Copperfield, Tom Jones, Liza Minnelli, Howie Mandel, Lily Tomlin and Rodney Carrington.