Las Vegas Strip Map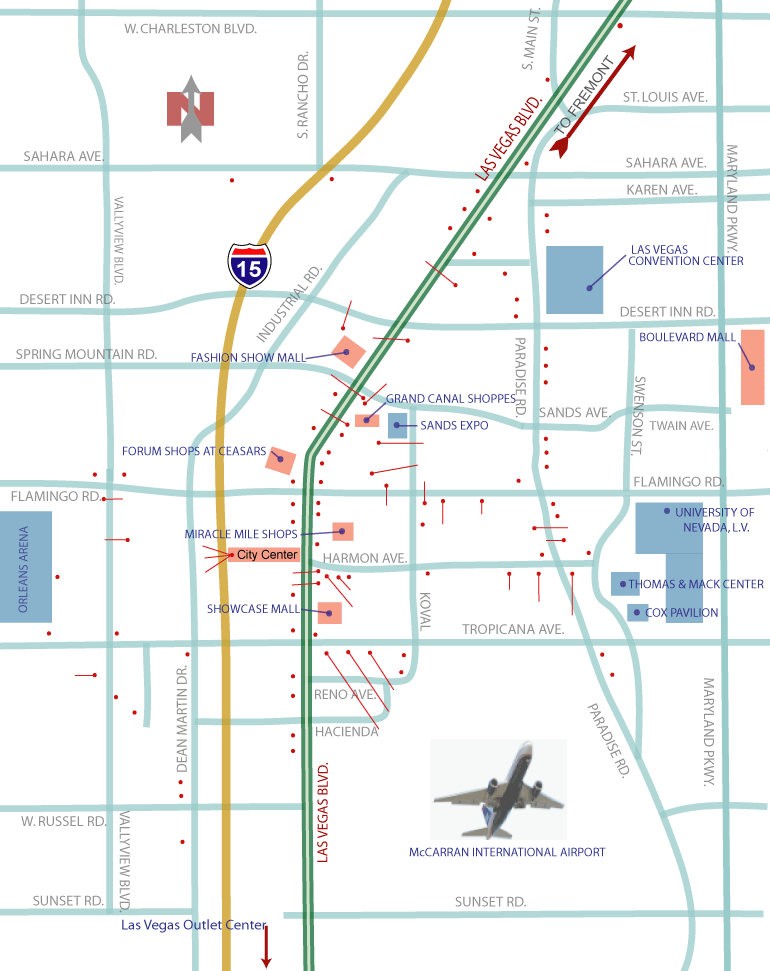 Get Started with

"Nightlife"

Click the links in the left column or on

the map to find Las Vegas bars & clubs

on the

Las Vegas Strip.

Or rollover this icon

Aria
Alexis
Ambassador
America's Best Value
Artisan
Aruba Hotel & Spa
Atrium
Ambassador Strip Travelodge
Bally's
Bellagio
Best Western Mardi Gras
Best Western McCarran
Bill's Gamblin
Caesars Palace
Cancun Resort
Candlewood Suites
Carriage House
Casino Royal
Circus Circus
Clarion
Comfort Inn
Courtyard
Courtyard
Embassy
Suites
Embassy
Emerald
Suites
Emerald Suites
Tropicana
Encore at Wynn
Excalibur
Extended Stay
Deluxe
Fairfield Inn
Fairfield
Flamingo
Four Seasons
Gold Coast
Hampton Inn
Hard Rock
Harrah's
Desert Rose
Hilton Grand Vac.
Hilton Grand Vac.
Hilton Grand Vac.
Holiday Inn
Hooters Casino & Hotel
Howard Johnson
Hyatt Place
Imperial Palace
Jockey Club
La Quinta
La Quinta
Las Vegas Hilton
Luxor
Mandalay Bay
Mandarin
MGM Grand
Marriot Suites
Marriot Grand
Mirage
Monte Carlo
New York
New York
Orleans
The Palms
Palace Station
Palazzo
Paris
Planet Hollywood
Platinum
Polo Towers
Renaissance
Residence Inn
Residence Inn
Residence Inn
Rio
Riviera
Royal Vacations Suites
Sahara
Signature
Stratosphere
St Tropez
Summer Bay
Super 8
Terrible's
Travelodge
Treasure Island
Tropicana
Trump
Tuscany
Vdara
Venetian
Villa Roma
Westin
Wild Wild West
Wyndham
Wynn Las Vegas

Night Clubs
WYNN Las Vegas
3131 Las Vegas Blvd S
Las Vegas, NV 89109
♠

Blush

Blush Nightclub is intimately scaled and designed with a sophisticated persona. The colors are vibrant to recharge the mood. There is an edgy vibe to Blush that comes to life on its onyx lit dance floor. Resident DJ spins mixes of rock, hip hop and house.

Blush Nightclub
B Bar
Relaxing cocktail lounge open 24 hours.
B Bar website
Cabana Bar
Casual outdoor poolside bar with gaming, sporting events shown on plasma TVs.
Cabana Bar
Tryst
Tryst Nightclub is opulent in every aspect. The 12,000 square foot venue is smartly designed with separate areas to accommodate every mood.
Tryst Nightclub

Encore at Wynn
XS
Legendary nightclub at Encore, opulent and sophisticated, poolside lounge tables, home to the $10,000 cocktail with jewelry, dance floor, European bottle service available.
XS website
Encore Bar List
Botero Bar
Nestled inside Botero restaurant, ultra chic.
Cabana Bar
Poolside bar, open seasonally.
Eastside Lounge
Outdoor pool scene, handcrafted cocktails and bottle service.
High Limit Bar
High-end blackjack and roulette, martinis and signature cocktails, bottle service.
Island Bar
View of two European style pools, swim up bar, comfy lounge seating.
Lobby Bar and Café
Ultra plush sofas, cocktails and lite bites, premium coffee.
Southside Bar
Premium liquors, nouvelle cocktails and beer selections.
Switch Bar
Adjacent to main atrium.
Encore Resort Bar website
Blush Boutique Nightclub

From the ceiling, 300 color-changing glowing lanterns are hung. The décor is stylish with modern Asian ambiance. Contemporary art adds tasteful interest to its chic atmosphere.

The outdoor patio integrates beautifully with the elements in design and feature. There are comfortable seating arrangements that are plush and refined. The curved lit walls are an elegant backdrop that lead the eyes upward to the sparkling night sky.

A private VIP room is draped for added seclusion and privacy. There are purse drawers at each seat and personal lockers available to store belongings. The details have been arranged for guests so they may relax and enjoy the evening unencumbered.

Bottle service is available. Attire is casual chic.
Tryst Nightclub

Central to Tryst is a 90 foot lighted waterfall that cascades into a lagoon. The tropical ambiance with lush foliage and glowing lantern lighting is spectacular. The waterfall and lagoon may be seen from most anywhere within Tryst.

The entrance leads to the Lounge area. The warm rich tones, mirrored accessories and comfortable sofas invoke conversation.

The dance floor looks out to the lagoon and waterfall. It is located off the entrance lounge area between the main bar and VIP area.

The Main Bar holds an elaborately elegant curvy bar with tufted front and view of the lagoon and waterfall. Comfortable sofas are set in nestled conversation areas. It is inviting and welcoming. The rich tones and subdued lighting follows throughout all of the bar areas.

The North and South Patio areas are situated on either side of the lagoon waterfall. The lush foliage and hanging lanterns lends a feeling of oasis. Guests can view the main bar through the long glass windows. It adds a spaciousness and beauty. Conversation areas with comfortable seating are perfectly arranged.

The VIP area is opulent. Its décor follows with rich woods, flowing drapery, comfortable sofa areas, recessed lighting and private nooks to offer seclusion. Glowing lanterns add subdued lighting aspects and personality. An intimate elevated private dance area with pole allows for fun and privacy.

Bottle service is available. Attire is fashionable elegant.
XS Nightclub

XS Nightclub is an opulent oasis and feast for the senses. Its poolside ambiance mingles with the nightclub's decadent vibe. XS is extravagant, passionate and where too much is never enough.

Designed for the chic social scene and inspired by the sexy curves of a woman's body. The nightclub flows out into the pool area, offering up to 40,000 square feet of elegant entertainment environments.

A 10 foot chandelier rotates above the dance floor. XS's elegant design and furnishings are suited for royalty.

While the indoor seating offers posh conversation areas, the outdoor lounge area adds another fabulous elite element. Poolside tables with bottle service are available.

For the rich and extravagant, XS serves a $10,000 cocktail with added mementos. The cocktail coined "ONO" features Dom Perignon Enotheque champagne and Louis XIII de Remy Martin Black cognac. The cocktail comes complete with sterling silver cufflinks embossed with a stingray and raised XS logo.

Included with the cocktail is a women's 18K white-gold chain with black pearl pendant and XS logo.

XS Nightclub is an unforgettable experience.

Attire is elegant nightlife.