Las Vegas Strip Map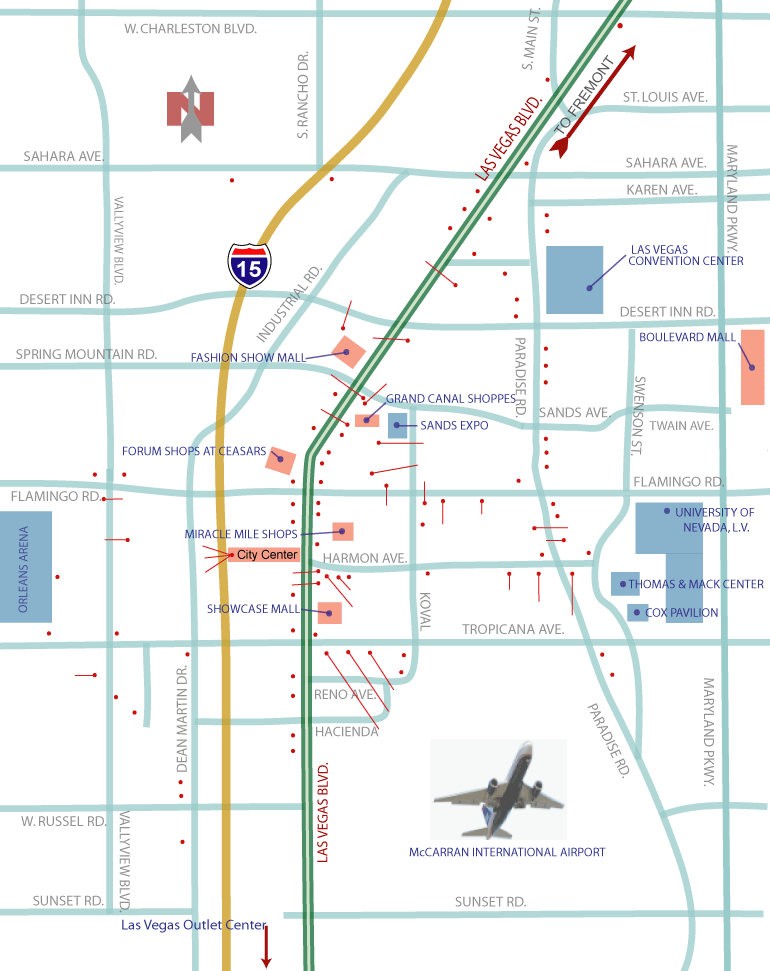 Get Started with

"Nightlife"

Click the links in the left column or on

the map to find Las Vegas bars & clubs

on the

Las Vegas Strip.

Or rollover this icon

Aria
Alexis
Ambassador
America's Best Value
Artisan
Aruba Hotel & Spa
Atrium
Ambassador Strip Travelodge
Bally's
Bellagio
Best Western Mardi Gras
Best Western McCarran
Bill's Gamblin
Caesars Palace
Cancun Resort
Candlewood Suites
Carriage House
Casino Royal
Circus Circus
Clarion
Comfort Inn
Courtyard
Courtyard
Embassy
Suites
Embassy
Emerald
Suites
Emerald Suites
Tropicana
Encore at Wynn
Excalibur
Extended Stay
Deluxe
Fairfield Inn
Fairfield
Flamingo
Four Seasons
Gold Coast
Hampton Inn
Hard Rock
Harrah's
Desert Rose
Hilton Grand Vac.
Hilton Grand Vac.
Hilton Grand Vac.
Holiday Inn
Hooters Casino & Hotel
Howard Johnson
Hyatt Place
Imperial Palace
Jockey Club
La Quinta
La Quinta
Las Vegas Hilton
Luxor
Mandalay Bay
Mandarin
MGM Grand
Marriot Suites
Marriot Grand
Mirage
Monte Carlo
New York
New York
Orleans
The Palms
Palace Station
Palazzo
Paris
Planet Hollywood
Platinum
Polo Towers
Renaissance
Residence Inn
Residence Inn
Residence Inn
Rio
Riviera
Royal Vacations Suites
Sahara
Signature
Stratosphere
St Tropez
Summer Bay
Super 8
Terrible's
Travelodge
Treasure Island
Tropicana
Trump
Tuscany
Vdara
Venetian
Villa Roma
Westin
Wild Wild West
Wyndham
Wynn Las Vegas

Night Clubs
LUXOR Las Vegas
3900 S. Las Vegas Blvd
Las Vegas, NV 89119
Aurora Casino bar
unique lighting effects across the ceiling based off the Aurora Borealis or Northern lights
Aurora Casino bar
Cathouse ultra lounge
Cathouse is a restaurant and seductive nightclub. It is designed with the look and feel reminiscent of a 19th century European bordello. They offer glamorous dining and an adjoining spacious ultra-lounge hotspot.
The Cathouse Ultra Lounge
♠

LAX Nightclub

LAX Nightclub is a sophisticated club that caters to a young crowd. Numerous A-list celebrities and social jet set have made their mark here.

LAX Nightclub
Liquidity Casino lounge
Tthree separate lounge areas, DJ zone, secluded alcove, European bottle service, projection system creates water pattern ambiance.
Liquidity Casino lounge
Noir Bar Cocktail bar
Noir Bar exudes opulence and exclusivity. The elegant bar is located inside LAX Nightclub and accessible through a private entrance.
Noir Bar
Other Casino Bars: High Bar and Play Bar (casino bars with plasma TVs), Flight Bar

Cathouse Nightclub

Music by the hottest international and local DJs feature house to rock music.

The entrance leads down a hallway lined with faux doors that mimic an old bordello.

The décor is sensual with erotic pictures of women lining the walls. Velvet booths surround the dance floor. Intimate lighting and elegant chandeliers enhance the seductive atmosphere.

Exotic lingerie clad performers dance and provide interactive theatrics with guests. Voyeurism and participation is encouraged. Raised platforms provide an upward view of the high heeled scantily clad dancers.

Cathouse is a discrete playpen for the spontaneous.

Attire is fashionable nightlife.
LAX Nightclub

Enter through LAX's gothic style gates and into a 26,000 square foot club and two stories of modern perfection.

The décor features two floors that are connected by an elaborate staircase. This staircase has served as a stage for grand entrances by celebrities and club goers alike.

The modern atmosphere is created with oversized mirrors, chandeliers, unique lighting, rich leathers, vibrant colors and black accents. A dark blue-lit stairway leads to a room where guests can get away to relax.

Their top-tier sound system is perfect for the DJ music with multiple music styles.

LAX offers VIP table service and ultra-VIP lofts.

Attire is fashionable dressy.
Noir Bar

The décor features elaborate sparkling Swarovski crystal chandelier lighting, marble bar, and ample leather seating.

Noir is a closely held venue. Picture taking is not permitted. Non-celebrity access is typically by invitation or referral. Reservations are required.

The VIP experience is heightened with a personal cocktail server and bartender Custom cocktails are prepared to your choosing. They offer a fine line of liquors from rare to delectable.

Attire is fashionable nightlife.