Las Vegas Strip Map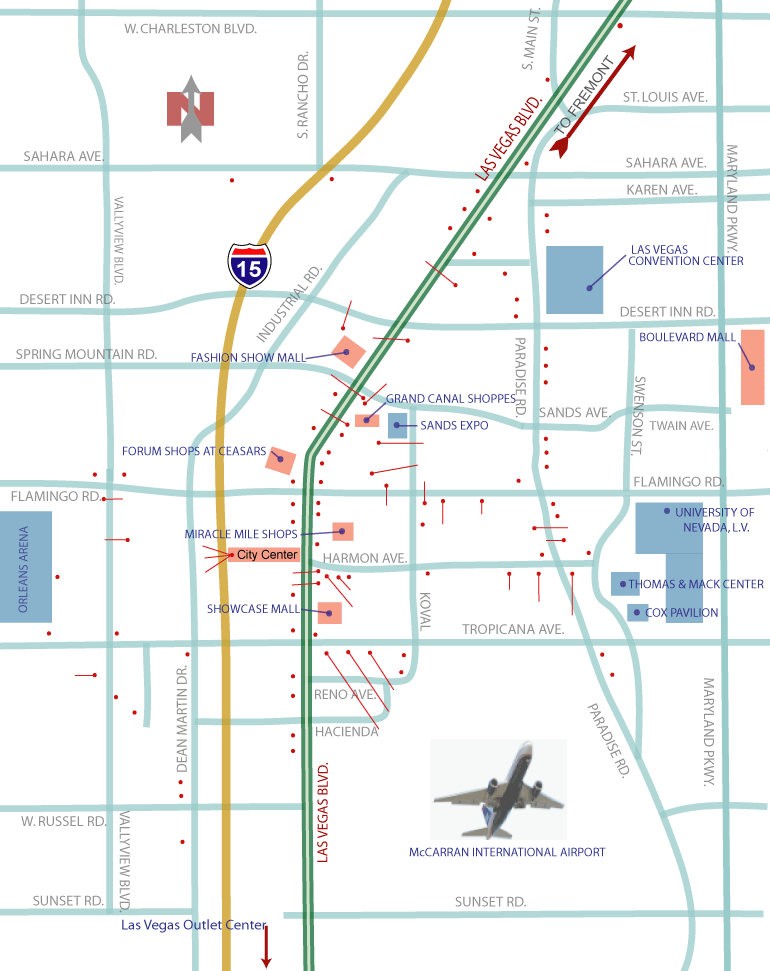 Aria
Alexis
Ambassador
America's Best Value
Artisan
Aruba Hotel & Spa
Atrium
Ambassador Strip Travelodge
Bally's
Bellagio
Best Western Mardi Gras
Best Western McCarran
Bill's Gamblin
Caesars Palace
Cancun Resort
Candlewood Suites
Carriage House
Casino Royal
Circus Circus
Clarion
Comfort Inn
Courtyard
Courtyard
Embassy
Suites
Embassy
Emerald
Suites
Emerald Suites
Tropicana
Encore at Wynn
Excalibur
Extended Stay
Deluxe
Fairfield Inn
Fairfield
Flamingo
Four Seasons
Gold Coast
Hampton Inn
Hard Rock
Harrah's
Desert Rose
Hilton Grand Vac.
Hilton Grand Vac.
Hilton Grand Vac.
Holiday Inn
Hooters Casino & Hotel
Howard Johnson
Hyatt Place
Imperial Palace
Jockey Club
La Quinta
La Quinta
Las Vegas Hilton
Luxor
Mandalay Bay
Mandarin
MGM Grand
Marriot Suites
Marriot Grand
Mirage
Monte Carlo
New York
New York
Orleans
The Palms
Palace Station
Palazzo
Paris
Planet Hollywood
Platinum
Polo Towers
Renaissance
Residence Inn
Residence Inn
Residence Inn
Rio
Riviera
Royal Vacations Suites
Sahara
Signature
Stratosphere
St Tropez
Summer Bay
Super 8
Terrible's
Travelodge
Treasure Island
Tropicana
Trump
Tuscany
Vdara
Venetian
Villa Roma
Westin
Wild Wild West
Wyndham
Wynn Las Vegas

Restaurants
MONTE CARLO Restaurants
♠

Andre's
by Andre Rochat
French, Gourmet "Considered the first Las Vegas celebrity chef, Andre Rochat has enhanced his AAA Four Diamond restaurant by combining its original old-world charm with a modern twist to create a warm,
welcoming atmosphere."
Andre's menu
Andre's website "read more"
Brand Steakhouse
Steakhouse "BRAND's menu is rich with imaginative interpretations of classic steakhouse favorites and features big, bold one-of-a-kind chops making this a
serious steakhouse."
Brand Steakhouse menu
Brand Steakhouse website "read more"
Diablo's Cantina
Mexican, Tex Mex "With live bands and Sin-Sational Mexican food, Diablo's Mexican Cantina is definitely the hottest joint on The Strip."
Diablo's Cantina menu
Diablo's Cantina website "read more"
d. vino Italian Food
"D.vino, with it's casually sophisticated design, offers a fantastic selection of authentic Italian cuisine"
de vino's "read more"
Café
Steaks, American "Featuring traditional American fare, there's something delicious for everyone here."
Café menu
Café website "read more"
Market City Café
Italian "Market City Cafe brings to life the authentic sights, sounds and flavors of authentic Italian eateries".
Market City Caffé website "read more"
Monte Carlo Buffet
International Cuisine "Enjoy cuisine from all corners of the globe at this Las Vegas restaurant."
Monte Carlo Buffet website "read more"
Monte Carlo Brew Pub
American "For those with a hearty appetite, our steak and stein special includes a tasty T-bone served with a
16-ounce draft."
Monte Carlo Brew Pub menu
Monte Carlo Brew Pub website "read more"
Other: Mirage Food Court includes Starbucks, McDonalds, Manchu Wok, Rubio's, Sbarro's, Subway, Haagen Dazs

Andre's

Andre's restaurant features fine dining and traditional French cuisine. Led by chef, Rochat, diners can be assured of a well presented meal. Chef Rochat gives his personal stamp of approval to each plate before it leaves the kitchen.

Savor signature courses such as filet of beef in green-peppercorn cognac cream sauce, imported dover sole, Maine lobster thermidor in Dijon mustard cream sauce, or peking duck duo in brandied sour cherry sauce.

Andre's boasts a 12,000 bottle cellar filled with fine wines. Their wine list contains over 1,500 selections. The connoisseur may enjoy legendary vintages from the most exalted chateaux of Bordeaux, burgundy, as well as top international labels.

The separate bar serves a menu of small plates, skewers, assorted charcuterie, chilled seafood and an assortment of cheeses.

Upstairs, there are three private dining rooms and an intimate Cigar Lounge with a wide selection of Cognacs, Armagnacs and after-dinner drinks.

The dining room is accented with gold and blue mosaic tiles, metal barstools dressed in blue cowhide, large glass bottle sculptures and silk-wrapped lighting. The tables are finely dressed in weighted crystal and fine china.

Andre's charm and elegance is alluring. Attention to detail is prevalent at Andres, along with a taste for the finer indulgences in life.
Las Vegas Power Pass

The Las Vegas Power Pass offers huge savings off admission fees to the largest
selection of top Las Vegas shows, restaurants and attractons. Skip the lines at
many locations and save time and money.



Half Price Shows

Purchase shows, tours, and attraction tickets for 50% off box office price. With HalfPriceShows there is no reason to pay full price or stand in lines. New items are added regularly. Buy discount tickets online!



Club Viva Las Vegas

NO cover charges. NO waiting in lines. Nightlife connection to the hottest clubs. Luxury transportation, VIP entrance with host and cocktails onboard. Hit three clubs for $49. Bachelor & bachelorette party specials. They get you in!



Vegas Bite Card

Save Over $500 on Shows, Tours, Attractions, Restaurants, Golf and Weddings! Half price shows and food. Unlimited use for one year. Card with no coupons. Show your card to receive discounts. The premium discount card for Las Vegas.



Las Vegas Perks

Experience Las Vegas at half price with Las Vegas Perks coupon book. For one low price, you'll receive a discount book worth over $1,200 in "2 for 1" Las Vegas dining, shows, tours, attractions, gaming credits and match play certificates.



Golf Card International

Savings on golf at nearly 3,000 golf courses. Up to 50% savings on cart and green fee for two rounds per year at an additional 2,400 courses. Newsletter and 20% savings on product purchases.