Las Vegas Strip Map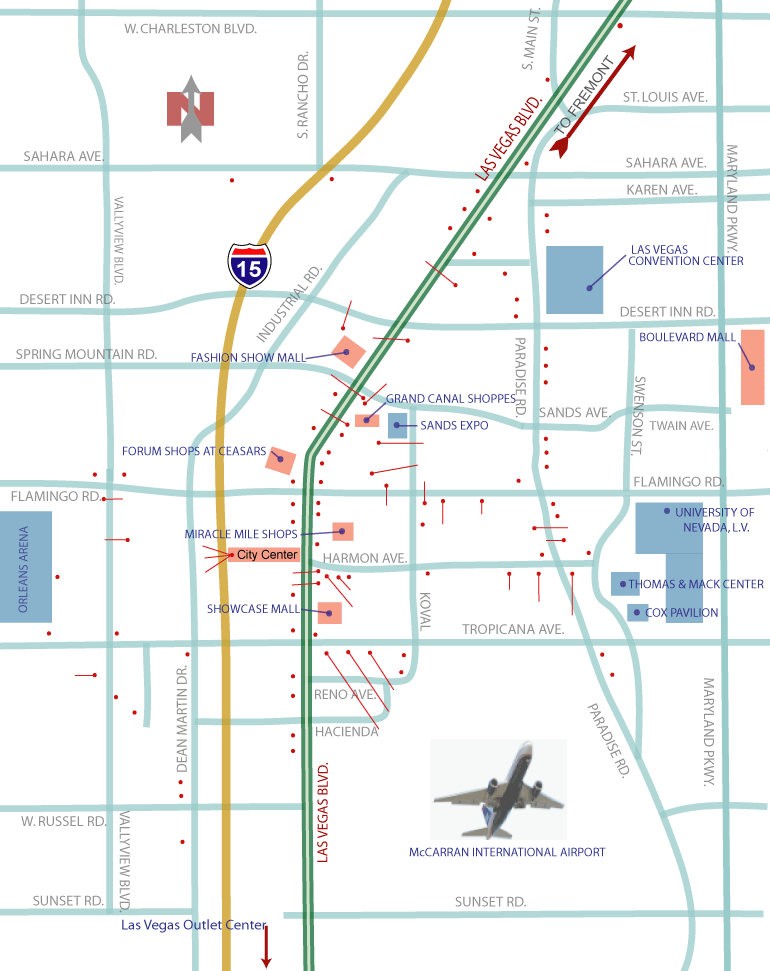 Aria
Alexis
Ambassador
America's Best Value
Artisan
Aruba Hotel & Spa
Atrium
Ambassador Strip Travelodge
Bally's
Bellagio
Best Western Mardi Gras
Best Western McCarran
Bill's Gamblin
Caesars Palace
Cancun Resort
Candlewood Suites
Carriage House
Casino Royal
Circus Circus
Clarion
Comfort Inn
Courtyard
Courtyard
Embassy
Suites
Embassy
Emerald
Suites
Emerald Suites
Tropicana
Encore at Wynn
Excalibur
Extended Stay
Deluxe
Fairfield Inn
Fairfield
Flamingo
Four Seasons
Gold Coast
Hampton Inn
Hard Rock
Harrah's
Desert Rose
Hilton Grand Vac.
Hilton Grand Vac.
Hilton Grand Vac.
Holiday Inn
Hooters Casino & Hotel
Howard Johnson
Hyatt Place
Imperial Palace
Jockey Club
La Quinta
La Quinta
Las Vegas Hilton
Luxor
Mandalay Bay
Mandarin
MGM Grand
Marriot Suites
Marriot Grand
Mirage
Monte Carlo
New York
New York
Orleans
The Palms
Palace Station
Palazzo
Paris
Planet Hollywood
Platinum
Polo Towers
Renaissance
Residence Inn
Residence Inn
Residence Inn
Rio
Riviera
Royal Vacations Suites
Sahara
Signature
Stratosphere
St Tropez
Summer Bay
Super 8
Terrible's
Travelodge
Treasure Island
Tropicana
Trump
Tuscany
Vdara
Venetian
Villa Roma
Westin
Wild Wild West
Wyndham
Wynn Las Vegas

Restaurants
HARD ROCK Restaurants
♠

Nobu
by Nobu Matsuhisa
Japanese, Sushi Menu "Japanese Restaurant Owner and Chef, Nobu Matsuhisa, is highly recognized for his groundbreaking modern and authentic
Japanese cuisine;"
Nobu menu
Nobu website "read more"
Ago
Italian "AGO's authentic Tuscan-style Italian food attracts A-list clientele nightly and is a widely recognized favorite among dining enthusiasts."
Ago website "read more"
Rare 120
Meat for a late night affair. "Rare 120º takes the stuffy steakhouse of the past and turns it upside down. Diners will enjoy classic and contemporary steakhouse cuisine."
Rare 120 website "read more"
Mr. Lucky's
American Diner "As the name signifies, Mr. Lucky's 24/7 is open 'round the clock and offers a traditional style eatery with a family-friendly atmosphere.
Mr. Lucky's menu
Mr. Lucky's website "read more"
Pink Taco
Mexican "Pink Taco is popular for putting a California spin on traditional Mexican dishes."
Pink Taco menu
Pink Taco website "read more"
ucks

AGO Restaurant

AGO Restaurant at Hard Rock Las Vegas attracts A-list clientele nightly. It's no surprise since legendary Hollywood celebrity Robert De Niro is a restaurant partner.

AGO's decor is sleek and welcoming with a contemporary modern flair. AGO at Hard Rock prepares authentic Tuscan-style Italian food, prime meats and seafood.

In addition to formal dining seating, AGO guests can enjoy small plates from the bar menu and specialty cocktails. There is a special "Cava" room designed in the theme of an underground wine cave.

AGO's main pasta courses include spaghetti with clams and rapini, rolled short pasta with speck and radicchio, potato dumpling with prawns and cherry tomato, or twist pasta with Genovese pesto green beans and potatoes. Or, try one of their Tuscan-style wood fired pizzas.

There are plenty of seafood specialties such as breaded grilled sea bass filet, roasted wild salmon, seared tuna with caponata, or seafood risotto with tomato.

AGO's prime meat plates may include 20 oz. angus beef with cannellini beans and roasted potatoes, lamp chop with grilled radicchio, roasted chicken with rosemary potatoes, or squab with shallots and wild mushroom ragout.

Finish the satisfying Italian style meal with a delicious dessert. Savor a warm apple tart with vanilla bean ice cream, espresso soaked ladyfingers with mascarpone cream and cocoa, or puffed pastry with cream, strawberries and almonds.
Rare 120º

Rare 120º restaurant at Hard Rock Las Vegas is an upscale classic steakhouse with a modern twist. Its décor is sleek and contemporary having warm wood finishes and brushed stainless steel.

Rare 120 at Hard Rock uses high-quality seasonal ingredients to ensure the freshest flavors possible. They offer an a la carte menu to allow guests to choose their sides and build a meal to suit their own personal choice.

Besides fresh ingredients, organic and farm raised meats, Rare 120º has an extensive wine selection, and innovative martini and cocktail menu.

To start your meal, choose a traditional Caesar salad with parmesan cheese and crispy pizza croutons or one of their signature salads. Specialty salads may include mini iceberg wedges with red onions, apple wood bacon and teardrop tomatoes, or barbeque chicken with sweet corn, avocado, tomatoes and buttermilk ranch dressing.

There are an assortment of tasty specialties such as Polynesian chicken wings, potato chips with blue cheese and black truffles, meatballs in honey mustard sauce, surf and turf skewers, or crab cakes and wontons alongside sweet chili dip.

Seafood selections may include Chilean sea bass, pan seared citrus scallops in orange basil sauce, black pepper-crusted Yellow fin tuna in sweet soy butter, lobster or king crab in champagne butter.

There are small and large portion sizes for the meat lovers. Choose from filet mignon, strip steak, rib eye, flat iron, short ribs, lamp chops or chicken.

There are an assortment of delicious side dishes such as asparagus in béarnaise, rosemary-parmesan mashed potatoes with lobster, herbed fries, potato skins, mushroom pot pie topped with puff pastry, or four cheese macaroni with bacon and onion.

Finish a perfect meal to a dessert of crème brulee and Tahitian vanilla bean, doughnut holes with warm chocolate nutella, chocolate fondue, tiramisu, cheesecake, or key lime pie.

Rare 120 signature cocktails melt in the mouth. Try the root beer float having root beer vodka, cream, whipped cream and some other yummy ingredients. The Ultimat Dill tickles the taste buds with its vodka, agave-lime juice, fresh dill and cucumber. There are plenty to choose from. The Head Rush fuses vodka and red bull. It will, undoubtedly, keep you energetic.
Nobu Restaurant

Nobu Restaurant at Hard Rock Las Vegas prepares authentic Japanese cuisine in modern adventurous ways. The sublime cuisine features seafood and sushi that is fresh and infused with flavors. Chef, Nobu Matsuhisa's bold and exotic style will delight the senses.

Nobu restaurant décor is alive with native Japanese design. Impressive are the bamboo pillars, seaweed wall, wooden birch trees and black river rock wall. The natural Asian setting is peaceful and transcendent of serenity.

Nobu's attention to detail is apparent in the interior design and in its cuisine. The house specialty is a three-day marinated cod that is seared and then served with sweet miso sauce. The monkfish pate with caviar and the yellowtail tartar with caviar are delightful.

Nobu at Hard Rock Las Vegas explores exotic taste and textures using a variety of fishes of the sea. Its sushi and sashimi is flavorful and exciting. Nobu uses abalone, clam, fresh water eel, salmon egg, Aji, octopus, kinme tai, kohada, smelt egg, squid, and sweet shrimp with fried head as examples.

To finish the meal, Nobu offers tempting deserts such as almond cake with carmelized bananas, coconut ginger parfait with coconut crunch and lime ginger sorbet, and chocolate mouse filled with yuzu cream and strawberry balsamic sorbet.
Las Vegas Power Pass

The Las Vegas Power Pass offers huge savings off admission fees to the largest
selection of top Las Vegas shows, restaurants and attractons. Skip the lines at
many locations and save time and money.



Half Price Shows

Purchase shows, tours, and attraction tickets for 50% off box office price. With HalfPriceShows there is no reason to pay full price or stand in lines. New items are added regularly. Buy discount tickets online!



Club Viva Las Vegas

NO cover charges. NO waiting in lines. Nightlife connection to the hottest clubs. Luxury transportation, VIP entrance with host and cocktails onboard. Hit three clubs for $49. Bachelor & bachelorette party specials. They get you in!



Vegas Bite Card

Save Over $500 on Shows, Tours, Attractions, Restaurants, Golf and Weddings! Half price shows and food. Unlimited use for one year. Card with no coupons. Show your card to receive discounts. The premium discount card for Las Vegas.



Las Vegas Perks

Experience Las Vegas at half price with Las Vegas Perks coupon book. For one low price, you'll receive a discount book worth over $1,200 in "2 for 1" Las Vegas dining, shows, tours, attractions, gaming credits and match play certificates.



Golf Card International

Savings on golf at nearly 3,000 golf courses. Up to 50% savings on cart and green fee for two rounds per year at an additional 2,400 courses. Newsletter and 20% savings on product purchases.