Las Vegas Strip Map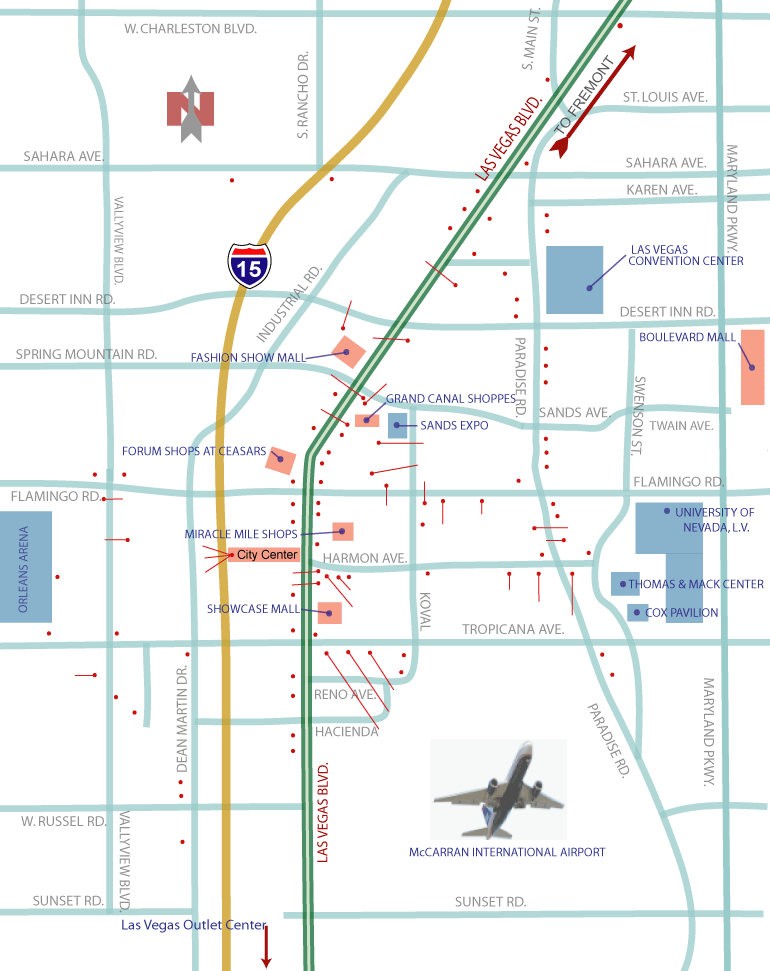 Aria
Alexis
Ambassador
America's Best Value
Artisan
Aruba Hotel & Spa
Atrium
Ambassador Strip Travelodge
Bally's
Bellagio
Best Western Mardi Gras
Best Western McCarran
Bill's Gamblin
Caesars Palace
Cancun Resort
Candlewood Suites
Carriage House
Casino Royal
Circus Circus
Clarion
Comfort Inn
Courtyard
Courtyard
Embassy
Suites
Embassy
Emerald
Suites
Emerald Suites
Tropicana
Encore at Wynn
Excalibur
Extended Stay
Deluxe
Fairfield Inn
Fairfield
Flamingo
Four Seasons
Gold Coast
Hampton Inn
Hard Rock
Harrah's
Desert Rose
Hilton Grand Vac.
Hilton Grand Vac.
Hilton Grand Vac.
Holiday Inn
Hooters Casino & Hotel
Howard Johnson
Hyatt Place
Imperial Palace
Jockey Club
La Quinta
La Quinta
Las Vegas Hilton
Luxor
Mandalay Bay
Mandarin
MGM Grand
Marriot Suites
Marriot Grand
Mirage
Monte Carlo
New York
New York
Orleans
The Palms
Palace Station
Palazzo
Paris
Planet Hollywood
Platinum
Polo Towers
Renaissance
Residence Inn
Residence Inn
Residence Inn
Rio
Riviera
Royal Vacations Suites
Sahara
Signature
Stratosphere
St Tropez
Summer Bay
Super 8
Terrible's
Travelodge
Treasure Island
Tropicana
Trump
Tuscany
Vdara
Venetian
Villa Roma
Westin
Wild Wild West
Wyndham
Wynn Las Vegas


Restaurants at the Mirage
BLT Burger
American "As we continue to grow our roster of innovative dining concepts, the acclaimed Chef Laurent Tourondel brings his interpretation of the American burger joint, BLT Burger, to The Mirage."
BLT Burger menu
BLT Burger website "read more"
B.B. King's Supper Club
"This supper club-style restaurant and live music venue consists of four full-service bars in three different areas with an atmosphere that accommodates intimate dinners and boisterous celebrations alike."
B.B. King's menu
B.B. King's Supper Club "read more"
Carnegie Deli
Deli, Sandwiches "Straight from Seventh Avenue in Midtown New York City, this East Coast original brings the real deli experience to The Mirage."
Carnegie Deli menu
Carnegie Deli website "read more"
California Pizza Kitchen
Pizza, Italian "The birthplace of the BBQ Chicken Pizza, the California Pizza Kitchen is famous for hearth-baked pizzas topped with unique taste combinations."
California Pizza Kitchen menu
California Pizza Kitchen website "read more"
Cravings
Buffet, Ethnic "Follow the intriguing aroma into a contemporary village of savory world flavors."
Cravings website "read more"
Dolphin Snack Bar
(by Secret Garden Habitat) Snacks, Hot Dogs "Treat yourself to ice cream, hot dogs, snacks and drinks while you watch the antics of our Atlantic bottlenose dolphin family." (Seasonal)
Dolphin Snack Bar website "read more"
Fin
Chinese "Experience exciting contemporary Chinese dishes tempered with an eclectic blend of international cuisines."
Fin menu
Fin website "read more"
Japonais
Japanese "Japonais, one of Chicago and New York City's most adored and critically acclaimed restaurants,
goes west."
Japonais menu
Japonais website "read more"
Kokomo's
Steak, Seafood "Enjoy dining in a tropical rainforest, surrounded by waterfalls and a sparkling interior lagoon."
Kokomo's menu
Kokomo's website "read more"
Onda
Italian "Voted "Best Italian Restaurant" by the Las Vegas Concierge Association, Onda offers classic-rustic Italian cuisine with American innovations."
Onda menu
Onda website "read more"
Paradise Café
(poolside) Poolside Café "Relax at the tropical poolside setting of the Paradise Café, where you can enjoy a continental breakfast, lavish lunch, alluring snacks and exotic drinks."
Paradise Café menu
Paradise Café website "read more"
Samba
Brazilian-style BBQ "Enjoy this popular Brazilian-style barbecue offering unlimited portions of marinated
meats, poultry and seafood as well as
unique à la carte items."
Samba menu
Samba website "read more"
Stack
American Bistro "Guests will experience both the
scene and cuisine, savoring a new American Bistro
menu in a cutting-edge environment that feels at once intimate and expansive."
Stack menu
Stack website "read more"
The Roasted Bean
Coffee Bistro "The Roasted Bean coffee bistro features a selection of coffee specialties and freshly baked French pastries, quiches and unique sandwiches in an open-air coffee house atmosphere accented with ceramic teapots from around the world."
The Roasted Bean website "read more"
Japonais Restaurant

Japonais restaurant is lead by Chef, Jun Ichikawa and Chef, Gene Kato. They feature contemporary Japanese cuisine including signature sushi, cold and hot appetizers and entrees.

For the cocktail crowd, there is a Sake Menu, Wine Menu and Cocktail Menu.

Japonais is where modern day Japan meets European elegance. Enter their dramatic foyer with a fire red glowing canopy and dark slate platform. Relax into the custom designed-furniture. Enjoy the décor's artistic use of textures, velvets, colored glass, exotic woods, stone and copper features, and rich color palate.

There are beautiful water elements throughout, cascading palm trees and a 110 foot glowing fire wall made of glass. It is a bold backdrop for the curving onyx bar.

Their main red dining room has an L-shaped marble and slate sushi bar, and walnut columns with copper and onyx details. The walls are made of red brick and blue glass to resemble water. Ebony-wood screens, gold accents, and fabulous lit branch tree sculpture adds unique beauty.

There is a lounge with shimmering silver and gold sheer drapery and a view of the casino floor. Guests can dine on sushi and small plate selections.

There is also a separate private dining room with its own bar that may be reserved.

Reservations are recommended.
STACK restaurant

STACK restaurant is lead by Chef, Brian Massie. They feature American cuisine using top quality meat, fish and poultry with creative and playful twists on classic food.

Succulent American inspired cuisine and decadent desserts seduce your palette at STACK Restaurant in The Mirage. Offering a pantheon of culinary delights perfect for quick bite dining or sharing with friends.

STACK guarantees to wow even the most finicky of diners. Beautiful rippling walls draw in patrons with their inviting canyon-like structure and sleek hardwood design, while STACK's amazing contemporary menu ensures that diners' taste buds are equally stimulated.

Straight ahead from The Mirage's main valet entrance, and directly through its indoor atrium, 7,000 sq ft of prime dining decadence await. Enjoy specialty cocktails ranging from the Cucumber STACK to the Raspberry Sin served up by STACK's eye catching staff who invite you to sit back, relax, and enjoy the view.

Through its fun and innovative interpretations on classic American cuisine, STACK promises a one-of-a-kind dining experience you'll never forget.

Corporate Event Specifications:
7,000 square feet
Private room for 18+ people
Large party reservations for 18 to 90 people
Buyout capacity for a reception is 400 people
Buyout capacity for a plated meal is 220 people
Full service bar