Las Vegas Strip Map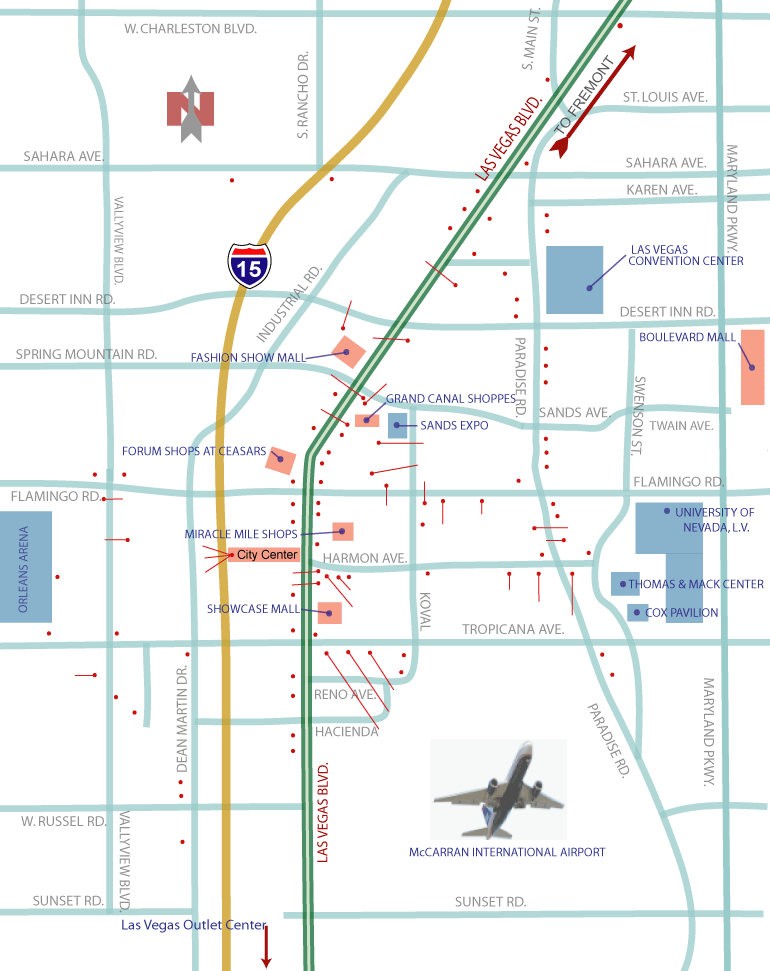 Aria
Alexis
Ambassador
America's Best Value
Artisan
Aruba Hotel & Spa
Atrium
Ambassador Strip Travelodge
Bally's
Bellagio
Best Western Mardi Gras
Best Western McCarran
Bill's Gamblin
Caesars Palace
Cancun Resort
Candlewood Suites
Carriage House
Casino Royal
Circus Circus
Clarion
Comfort Inn
Courtyard
Courtyard
Embassy
Suites
Embassy
Emerald
Suites
Emerald Suites
Tropicana
Encore at Wynn
Excalibur
Extended Stay
Deluxe
Fairfield Inn
Fairfield
Flamingo
Four Seasons
Gold Coast
Hampton Inn
Hard Rock
Harrah's
Desert Rose
Hilton Grand Vac.
Hilton Grand Vac.
Hilton Grand Vac.
Holiday Inn
Hooters Casino & Hotel
Howard Johnson
Hyatt Place
Imperial Palace
Jockey Club
La Quinta
La Quinta
Las Vegas Hilton
Luxor
Mandalay Bay
Mandarin
MGM Grand
Marriot Suites
Marriot Grand
Mirage
Monte Carlo
New York
New York
Orleans
The Palms
Palace Station
Palazzo
Paris
Planet Hollywood
Platinum
Polo Towers
Renaissance
Residence Inn
Residence Inn
Residence Inn
Rio
Riviera
Royal Vacations Suites
Sahara
Signature
Stratosphere
St Tropez
Summer Bay
Super 8
Terrible's
Travelodge
Treasure Island
Tropicana
Trump
Tuscany
Vdara
Venetian
Villa Roma
Westin
Wild Wild West
Wyndham
Wynn Las Vegas

Restaurants
FLAMINGO Restaurants

Virtual Tour of All Restaurants at the Flamingo Las Vegas
Beach Club
American, Bar and Grill "During the summer months, guests can grab a light snack or relaxing lunch at the Beach Club and enjoy a front-row seat on the sparkling blue waters of the Upper Pool." (Seasonal)
Beach Club website "read more"
Hamada of Japan
Japanese "For nearly a decade, Hamada of Japan has been a Las Vegas favorite for those seeking an authentic Japanese dining experience."
Hamada of Japan menu
Hamada of Japan website "read more"
Pink Bean
Casual, Café "Serving freshly brewed gourmet coffee, espresso and cappuccino, Pink Bean is a great place to stop for a delicious cup of coffee. Pink Bean also offers sandwiches, desserts and Nathan's Famous hot dogs "
Pink Bean website "read more"
Margaritaville
American, Steaks, Seafood "The multi-level Caribbean-themed entertainment venue offers two outdoor patios overlooking the Las Vegas Strip, a nautical-themed restaurant, five distinctive bars, live entertainment nightly (both indoors and outdoors) and a
3,000-square-foot retail store."
Margaritaville website "read more"
Paradise Garden Buffet
Varied, Buffet "Watch the playful antics of live flamingos while enjoying a fresh feast at the Paradise Garden Buffet."
Paradise Garden Buffet website "read more"
Steakhouse46
Steakhouse, Gourmet "Steakhouse46 is proud to reflect the superlative standards of a true classic steakhouse."
Steakhouse website "read more"
Tropical Breeze Café
Casual, Café "Our casual dining restaurant has an island cafe setting that offers both hearty American fare and tropical specialties."
Tropical Breeze Café website "read more"
Other: Promenade Food Court, Buger Joint, Sin City Brewing Company.
Margaritaville

Margaritaville is a lively Caribbean-themed restaurant with multi levels. Guests may enjoy live entertainment in any of their five distinctive bars. Two outdoor patios overlook the Las Vegas strip.

The décor and menu are inspired by Jimmy Buffett's island travels. The vibe is colorful, fun and casual. You can wear your shorts and flip flops here.

Entrée choices include grilled sirloin steak topped with Hawaiian butter, blackened fish with fresh fruit salsa, jerk barbecue flavors, and their signature "Cheeseburger in Paradise."

Be adventurous. Try their Jimmy's Jammin' Jambalaya spicy broth with chunks of shrimp, chicken, and Andouille sausage.

They serve delicious Caribbean style fare, fresh seafood, American favorites, and hamburgers, of course.

There's an extensive list of tequilas and specialty cocktails to choose from. Just sit back with a favorite Margarita, enjoy the music, and waste away in Margaritaville.

Pick up a memento on your way out in their adjacent retail store.
Paradise Garden Buffet

The Paradise Garden Buffet offers beautiful scenery with views of its 15 acre wildlife habitat and arboretum. Watch the playful antics of the live flamingos, swans and ducks. The lush tropical paradise is accented with spectacular waterfalls.

The view at Paradise Garden is beautiful. The food is a feast fit for a king and queen. For starters, there is a salad and fresh fruit bar. Moving on, diners may enjoy fresh shrimp that are piled high on ice, along with Alaskan crab legs, steamed mussels, little neck clams in saffron cream sauce, and
various seafood salads.

For those that enjoy the meatier side of life, there is prime rib, fresh turkey, leg of lamb
and other selections.

A large dessert bar serves up freshly baked pies, pastries, cakes and puddings. The ice cream station is another delicious way to satisfy the sweet cravings.

Paradise Garden Buffet offers breakfast, lunch and dinner. The vast array of breakfast items will tame the hungry appetite. They even cook up made-to-order omelets. Champagne brunch is offered as well.

The view is serene with wildlife, lush foliage and waterfalls. Its atmosphere sets a wonderful mood to enjoy the deliciously prepared food.
Steakhouse46

Steakhouse46 is a gourmet steakhouse that serves the finest aged beef and freshest seafood. The atmosphere is seductive and elegant with honey-colored woods, candlelit tables and rich brocades.

The staff provides a high level of attention to service. The gracious hospitality is matched with impeccable personal service. Relax with a glass of wine or spirits from their large selection, and enjoy a memorable dining adventure.

Savor first courses such as manila clams in Riesling reduction, Ahi Tuna sashimi in orange soy sauce, lobster bisque with cream sherry and chive oil, or succulent ice cold shellfish.

Steakhouse46 offers a tempting selection of fine aged beef cuts. Choose from porterhouse, New York, prime rib, filet mignon, or ribeye with maytag blue cheese.

For those that prefer seafood or poultry there are many selections such as duck, chicken, rack of lamb, lobster tails, scallops, and Alaskan king crab legs.

Enjoy roasted half duck with black cherries and brandy, free range chicken with shallots sauce, or seared Ahi Tuna served with shiitake mushrooms and English peas.

Finish with an exceptional dessert prepared by their in-house executive pastry chef. Steakhouse46 welcomes the steak lover who deserves the best.