Las Vegas Strip Map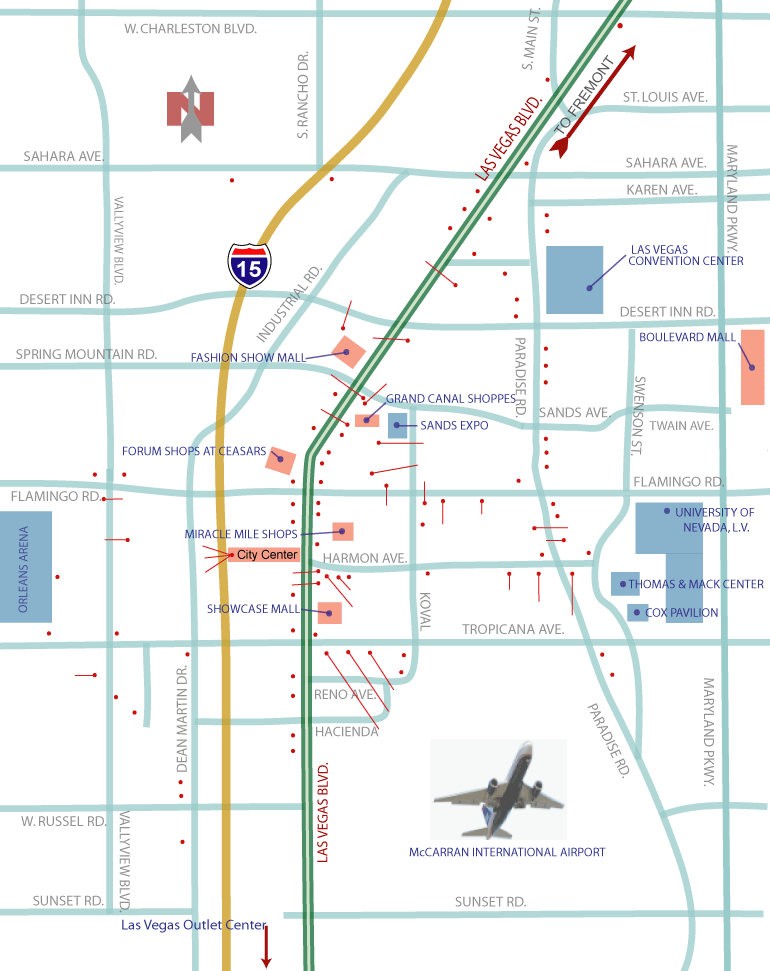 Get Started with

"Pools & Spas"

Click the links in the left column or on

the map to find Pool & Spa locations

on the

Las Vegas Strip.

Or rollover this icon

Aria
Alexis
Ambassador
America's Best Value
Artisan
Aruba Hotel & Spa
Atrium
Ambassador Strip Travelodge
Bally's
Bellagio
Best Western Mardi Gras
Best Western McCarran
Bill's Gamblin
Caesars Palace
Cancun Resort
Candlewood Suites
Carriage House
Casino Royal
Circus Circus
Clarion
Comfort Inn
Courtyard
Courtyard
Embassy
Suites
Embassy
Emerald
Suites
Emerald Suites
Tropicana
Encore at Wynn
Excalibur
Extended Stay
Deluxe
Fairfield Inn
Fairfield
Flamingo
Four Seasons
Gold Coast
Hampton Inn
Hard Rock
Harrah's
Desert Rose
Hilton Grand Vac.
Hilton Grand Vac.
Hilton Grand Vac.
Holiday Inn
Hooters Casino & Hotel
Howard Johnson
Hyatt Place
Imperial Palace
Jockey Club
La Quinta
La Quinta
Las Vegas Hilton
Luxor
Mandalay Bay
Mandarin
MGM Grand
Marriot Suites
Marriot Grand
Mirage
Monte Carlo
New York
New York
Orleans
The Palms
Palace Station
Palazzo
Paris
Planet Hollywood
Platinum
Polo Towers
Renaissance
Residence Inn
Residence Inn
Residence Inn
Rio
Riviera
Royal Vacations Suites
Sahara
Signature
Stratosphere
St Tropez
Summer Bay
Super 8
Terrible's
Travelodge
Treasure Island
Tropicana
Trump
Tuscany
Vdara
Venetian
Villa Roma
Westin
Wild Wild West
Wyndham
Wynn Las Vegas

Pools & Spas
Bellagio Hotel
Spa and Fitness Center
Spa Bellagio in Las Vegas offers an extensive and unique menu of international treatments. Spa Bellagio Signature treatments include Ashiatsu Oriental Bar Therapy, Indian Head Massage and Thai Yoga Massage. Spa Bellagio also offers in-room and poolside
cabana massages.
They also offer spa packages. Examples of Bellagio Spa packages include couples, mother & daughter, girlfriend's package, rest & relaxation, spa journey, ladies package and spa splendor.
Size of Bellagio Spa in Las Vegas is 65,000 square feet.
You'll find a large assortment of personal fitness training session options at Bellagio. Examples include Pilates, spinning, Power Plate, boxing, yoga,
meditation and more.The spa is open to hotel guests of all MGM properties. They will take reservations three months in advance. Call 702-693-7472 for reservations.
Bellagio Spa Brochure
Bellagio Spa Price Guide
Bellagio Spa Website
Bellagio Salon
Bellagio has their own salon that caters to both men and women. Their services include bridal services, shaving, waxing, chemical services, barber and hair services (including hair extensions), facials and skin treatments, manicures, pedicures, invigorating foot treatments, nail services, scalp & hair treatments, make-up services performed by experts, teeth whitening,
eye and lip treatments.
Call Bellagio salon for reservations at 702-693-8080.
Bellagio Salon Brochure
Bellagio Salon Price Guide
Bellagio Salon Website
Bellagio Pool
Bellagio Las Vegas pool area is open and heated year round. Hours are seasonal. They have five definitive pool courtyard settings set in a classic Mediterranean-infused theme. Private cabana rentals are available. Call Bellagio pool area for pricing and availability at 702-693-7487. (Brochure not available).
Bellagio has a pool bar that is open seasonally from 10 am to 6 pm.
Bellagio Pool Website