Las Vegas Strip Map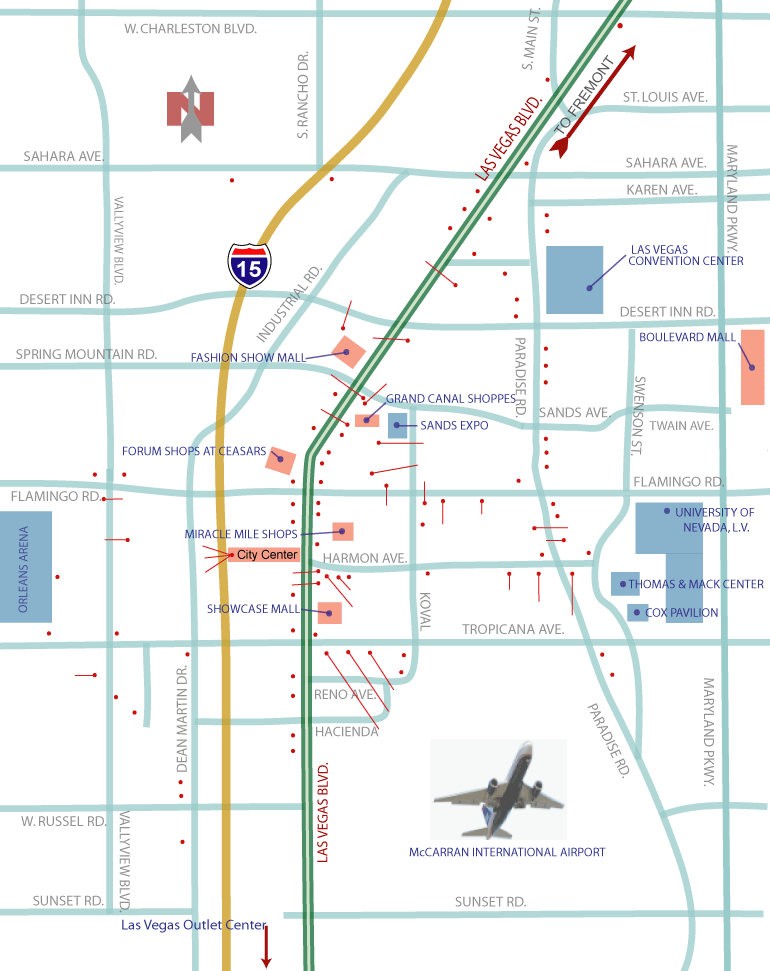 Get Started with

"Hotels"

Click the links in the left column or on

the map to find hotel & casino locations

on the

Las Vegas Strip.

Or rollover this icon

Aria
Alexis
Ambassador
America's Best Value
Artisan
Aruba Hotel & Spa
Atrium
Ambassador Strip Travelodge
Bally's
Bellagio
Best Western Mardi Gras
Best Western McCarran
Bill's Gamblin
Caesars Palace
Cancun Resort
Candlewood Suites
Carriage House
Casino Royal
Circus Circus
Clarion
Comfort Inn
Courtyard
Courtyard
Embassy
Suites
Embassy
Emerald
Suites
Emerald Suites
Tropicana
Encore at Wynn
Excalibur
Extended Stay
Deluxe
Fairfield Inn
Fairfield
Flamingo
Four Seasons
Gold Coast
Hampton Inn
Hard Rock
Harrah's
Desert Rose
Hilton Grand Vac.
Hilton Grand Vac.
Hilton Grand Vac.
Holiday Inn
Hooters Casino & Hotel
Howard Johnson
Hyatt Place
Imperial Palace
Jockey Club
La Quinta
La Quinta
Las Vegas Hilton
Luxor
Mandalay Bay
Mandarin
MGM Grand
Marriot Suites
Marriot Grand
Mirage
Monte Carlo
New York
New York
Orleans
The Palms
Palace Station
Palazzo
Paris
Planet Hollywood
Platinum
Polo Towers
Renaissance
Residence Inn
Residence Inn
Residence Inn
Rio
Riviera
Royal Vacations Suites
Sahara
Signature
Stratosphere
St Tropez
Summer Bay
Super 8
Terrible's
Travelodge
Treasure Island
Tropicana
Trump
Tuscany
Vdara
Venetian
Villa Roma
Westin
Wild Wild West
Wyndham
Wynn Las Vegas
3790 Las Vegas Blvd S
Las Vegas, NV 89109
(702)689-1797


Las Vegas Hotels on the Strip
New York New York Hotel & Casino
New York New York is the best of Manhattan as presented in this Las Vegas Strip hotel. A 150-foot high replica of the Statute of Liberty and 300-foot long replica of the Brooklyn Bridge are the hotel's hallmarks. They boldly recreate the fabulous Manhattan skyline with numerous skyscrapers ranging from 30 to 46 stories.
Guests are greeted into a neon-lit lobby to register in. Contemporary sophistication within awaits. The accommodations are posh, uncompromising, spacious, and designed with traditional New York flair.
Number of rooms: 2,023
45 floors


Click on Icons for Hotel Details
New York New York Hotel & Casino

Take a ride on their Roller Coater that winds through the hotel's miniature New York skyline. The coaster reaches speeds of up to 67 mph and rises 203 feet into the air, dropping down 144 feet, turning 180 degrees, and hangs in the air 86 feet up. For those taking the wedding plunge, they offer day and night wedding packages. Take your vows at 67 mph on the roller coaster.

Live entertainment includes the theatrical production of the Cirque du Soleil show Zumanity. There are plenty of bars that include sports-themed, piano bar with sing-alongs, girl bartenders dancing on the bar, and Irish themed with story-telling entertainment. The high-energy nightclub is Rok Vegas.

There are a variety of restaurants, including those that bring the famous flavors of Manhattan to Las Vegas.

Their outdoor pool area is surrounded by a sundeck and rental cabanas. Food and beverage service is available, as well as chair massages by appointment.

The full-service spa offers separate facilities for men and women. Enjoy the saunas, steam room, the whirlpool for men, and the private hydrotherapy soaks for women. Their state-of-the-art fitness center includes free weights and cardiovascular equipment.

Shopping includes a variety of unique boutiques.

Their large casino has over 1,800 slots in varying denominations, all the popular table games on more than 80 tables, and race and sports book entertainment.

They offer over 21,000 square feet of meeting and convention space with diverse configurations, catering and planning service professionals.

Go uptown and upscale. Enjoy a taste of Manhattan in Las Vegas at New York New York Hotel Casino.