Las Vegas Strip Map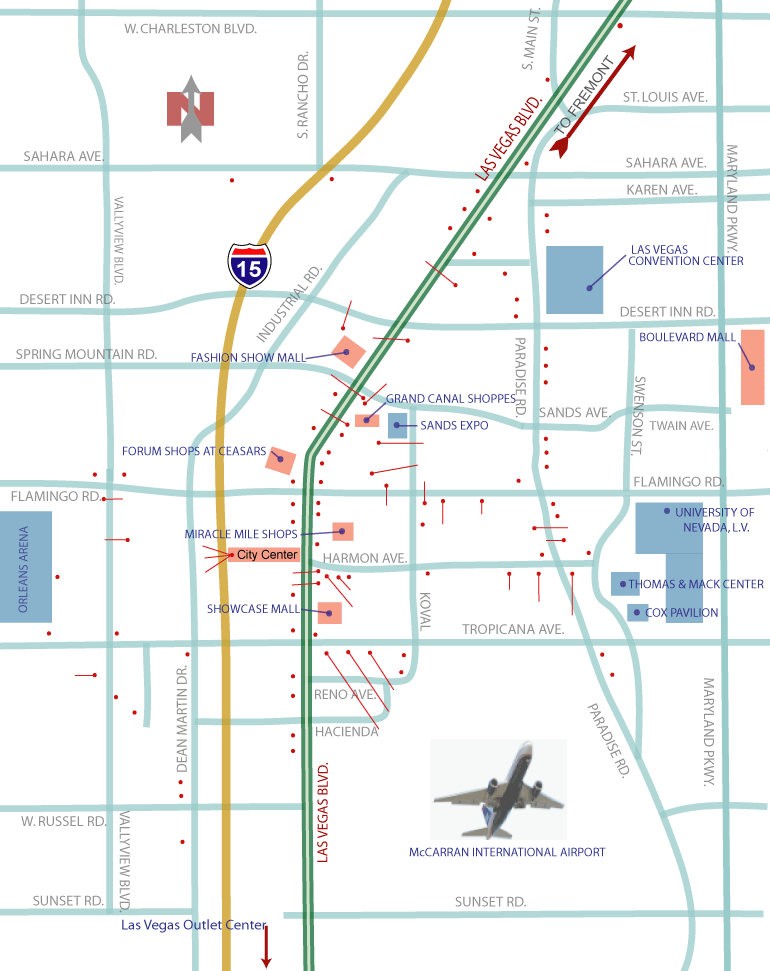 Aria
Alexis
Ambassador
America's Best Value
Artisan
Aruba Hotel & Spa
Atrium
Ambassador Strip Travelodge
Bally's
Bellagio
Best Western Mardi Gras
Best Western McCarran
Bill's Gamblin
Caesars Palace
Cancun Resort
Candlewood Suites
Carriage House
Casino Royal
Circus Circus
Clarion
Comfort Inn
Courtyard
Courtyard
Embassy
Suites
Embassy
Emerald
Suites
Emerald Suites
Tropicana
Encore at Wynn
Excalibur
Extended Stay
Deluxe
Fairfield Inn
Fairfield
Flamingo
Four Seasons
Gold Coast
Hampton Inn
Hard Rock
Harrah's
Desert Rose
Hilton Grand Vac.
Hilton Grand Vac.
Hilton Grand Vac.
Holiday Inn
Hooters Casino & Hotel
Howard Johnson
Hyatt Place
Imperial Palace
Jockey Club
La Quinta
La Quinta
Las Vegas Hilton
Luxor
Mandalay Bay
Mandarin
MGM Grand
Marriot Suites
Marriot Grand
Mirage
Monte Carlo
New York
New York
Orleans
The Palms
Palace Station
Palazzo
Paris
Planet Hollywood
Platinum
Polo Towers
Renaissance
Residence Inn
Residence Inn
Residence Inn
Rio
Riviera
Royal Vacations Suites
Sahara
Signature
Stratosphere
St Tropez
Summer Bay
Super 8
Terrible's
Travelodge
Treasure Island
Tropicana
Trump
Tuscany
Vdara
Venetian
Villa Roma
Westin
Wild Wild West
Wyndham
Wynn Las Vegas

Shopping
The Forum Shops at Caesars Palace
3500 Las Vegas Blvd. S
Las Vegas, NV 89109
The Forum Shops at Caesars Palace
The Forum Shops at Caesars Palace has more than 160 stores and 13 restaurants & specialty food shops. The mall is located on the Las Vegas Strip, adjacent to Caesars Place Hotel Casino. Visitors are greeted with a spectacular grand pedestrian entrance, that flows into a unique and dazzling shopping experience.
The Forum Shops is a visually stunning three-level fashion mall that simulates ancient Roman streets. The ceiling is painted to replicate a beautiful blue sky. To enhance the Roman motif are replicas of the Trevi & Triton Fountains, massive reflecting pool, large statues and elaborate facades. A majestic spiral escalator transports visitors to the upper levels of the mall.
The Forum Shops is a premier retail destination. Some of the designer labels include Louis Vuitton, Roberto Cavalli, Bvlgari, Christian Dior, Gianni Versace, Burberry, Salvatore Ferragamo, Gucci, Harry Winston, Fendi, Valentino, Robert Cavalli, and more.
An assortment of specialty shops include Coach, Kids Kastle, Swarovski Crystal, Estee Lauder, Victoria's Secret, Playboy, Tiffany & Co., Field of Dreams, and Houdini's Magic Shop to name a few.
The Forum Shops full store directory and layout are available online.
The Forum Shops Store Directory