Las Vegas Strip Map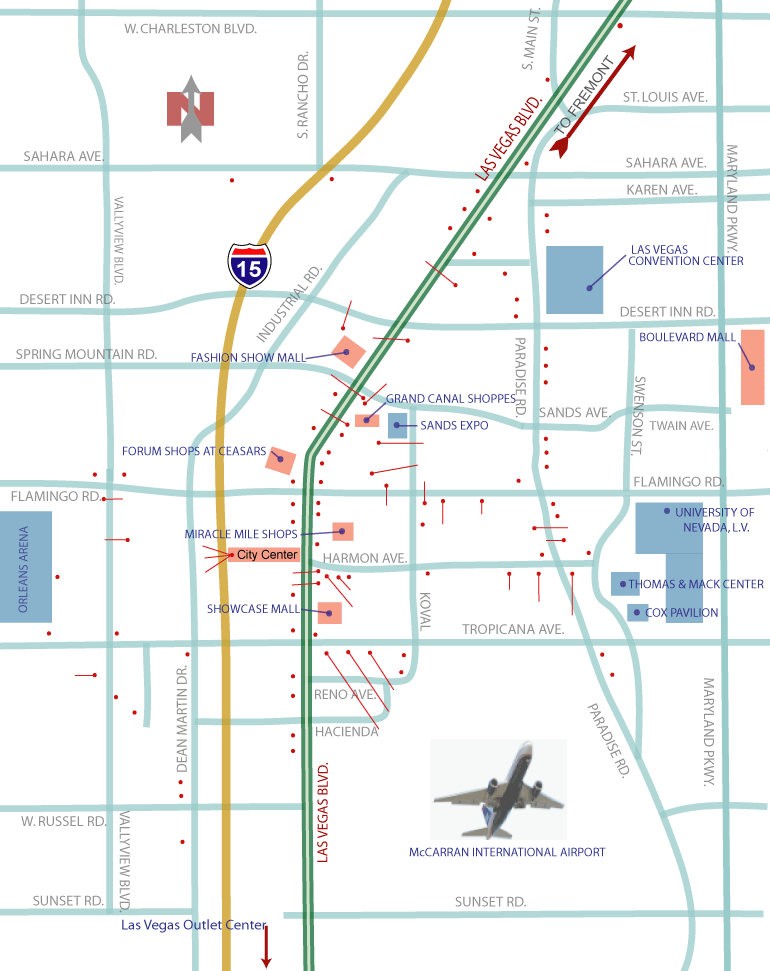 Get Started with

"Pools & Spas"

Click the links in the left column or on

the map to find Pool & Spa locations

on the

Las Vegas Strip.

Or rollover this icon

Aria
Alexis
Ambassador
America's Best Value
Artisan
Aruba Hotel & Spa
Atrium
Ambassador Strip Travelodge
Bally's
Bellagio
Best Western Mardi Gras
Best Western McCarran
Bill's Gamblin
Caesars Palace
Cancun Resort
Candlewood Suites
Carriage House
Casino Royal
Circus Circus
Clarion
Comfort Inn
Courtyard
Courtyard
Embassy
Suites
Embassy
Emerald
Suites
Emerald Suites
Tropicana
Encore at Wynn
Excalibur
Extended Stay
Deluxe
Fairfield Inn
Fairfield
Flamingo
Four Seasons
Gold Coast
Hampton Inn
Hard Rock
Harrah's
Desert Rose
Hilton Grand Vac.
Hilton Grand Vac.
Hilton Grand Vac.
Holiday Inn
Hooters Casino & Hotel
Howard Johnson
Hyatt Place
Imperial Palace
Jockey Club
La Quinta
La Quinta
Las Vegas Hilton
Luxor
Mandalay Bay
Mandarin
MGM Grand
Marriot Suites
Marriot Grand
Mirage
Monte Carlo
New York
New York
Orleans
The Palms
Palace Station
Palazzo
Paris
Planet Hollywood
Platinum
Polo Towers
Renaissance
Residence Inn
Residence Inn
Residence Inn
Rio
Riviera
Royal Vacations Suites
Sahara
Signature
Stratosphere
St Tropez
Summer Bay
Super 8
Terrible's
Travelodge
Treasure Island
Tropicana
Trump
Tuscany
Vdara
Venetian
Villa Roma
Westin
Wild Wild West
Wyndham
Wynn Las Vegas

Pools and Spas at Mandalay Bay
Mandalay Bay Hotel
Mandalay Bay Las Vegas Spa
Mandalay Bay Las Vegas Spa offers a full range of treatments from classic to exotic. The spa services include massages, body treatments, skin care services, manicures, pedicures, and spa packages.
Mandalay Bay spa amenities also include redwood saunas, warm and hot whirlpools, relaxation lounge, Eucalyptus steam room, cold plunge, shower and vanity areas.
The 30,000 square foot luxurious and elegantly-designed spa includes a 3,000 square foot fitness center. The fitness center at Mandalay Bay Las Vegas offers state-of-the-art equipment offering cardiovascular with a personalized television, stretch area, and traditional free weights.
In addition Mandalay Bay offers a 14,000 square foot Bathhouse. It features uniquely European styling with slate walls, marble floors and flowing water features throughout. The Bathhouse has steam rooms, saunas and 12 treatment rooms. At Mandalay's Bathhouse, you can immerse, infuse, submerge and retreat.
Climb into a bath of mud, ayurvedic herbs or an aromapothecary scentual at Mandalay Bay's Bathhouse in Las Vegas.
Mandalay Bay Spa Brochure
Mandalay Bay Spa Price Guide
Mandalay Bay Spa - Virtual Tour
Mandalay Bay Spa Website
Salon Services at Mandalay Bay
Salon Mandalay offers a menu of services to pamper your hands and feet. Services include signature pedicures and manicures. The Robert Cromeans Salon is available for your hair care needs.
Robert Cromeans Salon Price Guide
Mandalay Bay Pool
Mandalay Bay Las Vegas offers the ultimate in premier aquatic relaxation. They offer a huge wave pool, lazy river, several whirlpools, three swimming pools, jogging track, and 2700 tons of real sand.
Their beach is home to the Beach Concert Series. A stage extends out into the wave pool where guests can watch the concert from the water or sitting on the beach.
You don't have to go far for gaming. There is a three-story beachside casino. It is glass-fronted, climate-controlled. On the first level, beach fans may dine at the open air Bar and Grill. The second floor offers a full gaming experience that includes blackjack, roulette and craps.
The third level houses villas that overlook the entire Mandalay Bay beach area. The villas range in size from 250 to 500 square feet. Each villa can accommodate up to 16 guests. They have private cabana service and access to a private,
third level pool.
For those interested in adult European bathing, the Moorea Beach Club is onsite. It offers a nice view of the beach, cushioned chaise lounges, music, poolside massage service, daybeds and pavilions. Admission fee applicable. You must be over 21 years of age to access.
Mandalay Bay Las Vegas offers an assortment of cabana rental options throughout the pool, river and lagoon areas.
Mandalay Bay Pools - Virtual Tours
Mandalay Bay Pool Website