Las Vegas Strip Map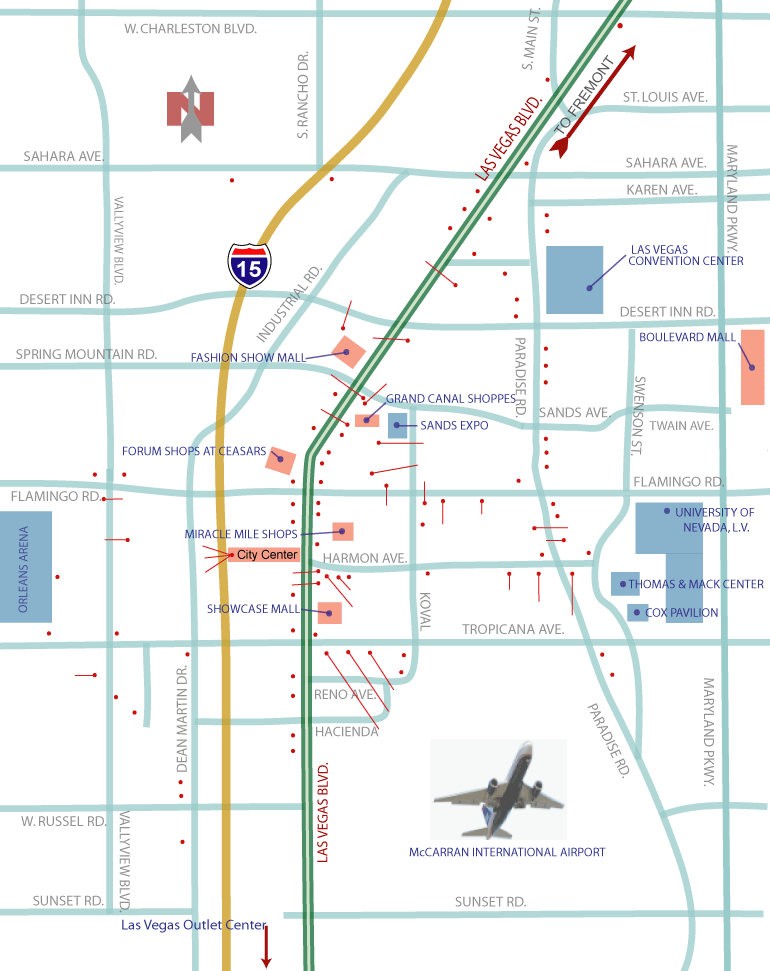 Aria
Alexis
Ambassador
America's Best Value
Artisan
Aruba Hotel & Spa
Atrium
Ambassador Strip Travelodge
Bally's
Bellagio
Best Western Mardi Gras
Best Western McCarran
Bill's Gamblin
Caesars Palace
Cancun Resort
Candlewood Suites
Carriage House
Casino Royal
Circus Circus
Clarion
Comfort Inn
Courtyard
Courtyard
Embassy
Suites
Embassy
Emerald
Suites
Emerald Suites
Tropicana
Encore at Wynn
Excalibur
Extended Stay
Deluxe
Fairfield Inn
Fairfield
Flamingo
Four Seasons
Gold Coast
Hampton Inn
Hard Rock
Harrah's
Desert Rose
Hilton Grand Vac.
Hilton Grand Vac.
Hilton Grand Vac.
Holiday Inn
Hooters Casino & Hotel
Howard Johnson
Hyatt Place
Imperial Palace
Jockey Club
La Quinta
La Quinta
Las Vegas Hilton
Luxor
Mandalay Bay
Mandarin
MGM Grand
Marriot Suites
Marriot Grand
Mirage
Monte Carlo
New York
New York
Orleans
The Palms
Palace Station
Palazzo
Paris
Planet Hollywood
Platinum
Polo Towers
Renaissance
Residence Inn
Residence Inn
Residence Inn
Rio
Riviera
Royal Vacations Suites
Sahara
Signature
Stratosphere
St Tropez
Summer Bay
Super 8
Terrible's
Travelodge
Treasure Island
Tropicana
Trump
Tuscany
Vdara
Venetian
Villa Roma
Westin
Wild Wild West
Wyndham
Wynn Las Vegas

Attractions
LUXOR
3900 S. Las Vegas Blvd
Bodies - The Exhibition
The Bodies Exhibition at the Luxor features 13 whole body specimens, over 260 organs & partial body specimens. The authentic specimens have been meticulously dissected & preserved to provide a true to life view of the human form's internal complexity.
Visitors will have an up close view of the skeletal, muscular, respiratory and circulatory systems & organs. Comparison specimens are provided to show a healthy organ side to side with a diseased or damaged organ. For example, a healthy lung next to a lung damaged by smoking. Educational for children and a wake up call for adults.
Bodies - The Exhibition Website
Players Card at Luxor
MGM Mirage Players Club is the rewards program at the Luxor in Las Vegas. Sign up to earn rewards and gifts. This card may be used at any of MGM's casinos to earn credits. MGM's participating casinos include Luxor, Bellagio, MGM Grand, The Mirage, Treasure Island, New York-New York, Mandalay Bay, Excalibur and Monte Carlo in Las Vegas.
Players Card Website
Stairway to the Stars
The large outdoor pyramid at the Luxor is called the Luxor Sky Beam. It is the strongest beam of light in the world today with 42.3 billion candlepower. The curved mirror design collects the light from 39 Xenon lamps and focus them in one intense, narrow beam. On a clear night the Luxor Sky Beam can be seen up to 250 miles away by an airplane passenger. Engineers have said that even an astronaut could read a newspaper by the Sky Beam from ten miles into space.
Stairway to the Stars Website
Titanic - The Artifact Exhibition
The Artifact Exhibition of the Titanic is a 25,000 square foot homage to the infamous Titanic ship. The Titanic ship was the largest passenger steamship in the world at the time. The Titanic hit an iceberg and sunk in the North Atlantic ocean on April 14, 1912, taking over 1500 passengers lives. It is considered one of the most deadliest maritime disasters in history.
There are numerous artifacts on displays. An authentic piece of the Titanic's hull is on display as well as a full-scale recreation of the Grand Staircase. Visitors can experience the weather conditions of that tragic night in a simulated version within the Promenade. Wander through the ship's rooms recreations and explore the recovered treasures.
Titanic - The Artifact Exhibition Website