Las Vegas Strip Map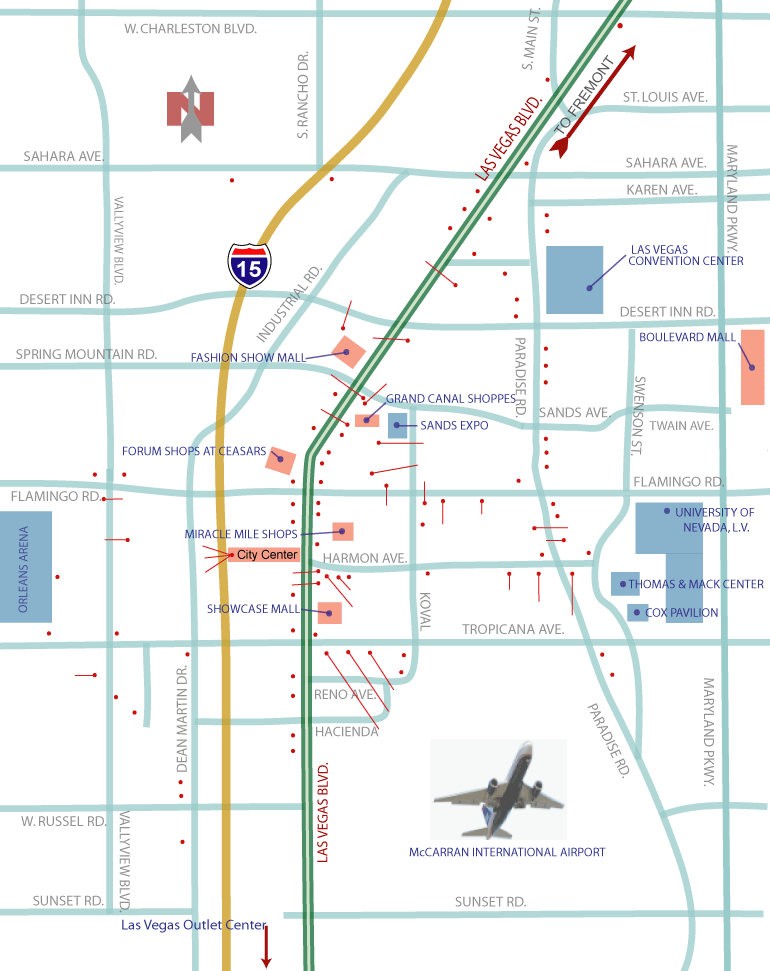 Aria
Alexis
Ambassador
America's Best Value
Artisan
Aruba Hotel & Spa
Atrium
Ambassador Strip Travelodge
Bally's
Bellagio
Best Western Mardi Gras
Best Western McCarran
Bill's Gamblin
Caesars Palace
Cancun Resort
Candlewood Suites
Carriage House
Casino Royal
Circus Circus
Clarion
Comfort Inn
Courtyard
Courtyard
Embassy
Suites
Embassy
Emerald
Suites
Emerald Suites
Tropicana
Encore at Wynn
Excalibur
Extended Stay
Deluxe
Fairfield Inn
Fairfield
Flamingo
Four Seasons
Gold Coast
Hampton Inn
Hard Rock
Harrah's
Desert Rose
Hilton Grand Vac.
Hilton Grand Vac.
Hilton Grand Vac.
Holiday Inn
Hooters Casino & Hotel
Howard Johnson
Hyatt Place
Imperial Palace
Jockey Club
La Quinta
La Quinta
Las Vegas Hilton
Luxor
Mandalay Bay
Mandarin
MGM Grand
Marriot Suites
Marriot Grand
Mirage
Monte Carlo
New York
New York
Orleans
The Palms
Palace Station
Palazzo
Paris
Planet Hollywood
Platinum
Polo Towers
Renaissance
Residence Inn
Residence Inn
Residence Inn
Rio
Riviera
Royal Vacations Suites
Sahara
Signature
Stratosphere
St Tropez
Summer Bay
Super 8
Terrible's
Travelodge
Treasure Island
Tropicana
Trump
Tuscany
Vdara
Venetian
Villa Roma
Westin
Wild Wild West
Wyndham
Wynn Las Vegas

Attractions
BALLY'S HOTEL
Jubilee Theatre
Take a backstage tour of the Jubilee Theatre. Bally's is home to the ever popular topless review of Jubilee dancers that have been entertaining guests for over 20 years. Visitors go inside the dressing room and get a close up look at the elaborate costumes and make-up area. Go behind the scenes and experience the technical side of the show's production. The tour includes the state-of-the-art light booth, repair shop and sets.
Jubilee Theater Website
Players Card at Bally's
Total Rewards is Harrah's rewards program at Bally's in Las Vegas. Sign up to earn rewards and gifts. This card may be used at any of Harrah's casinos to earn credits. Harrah's participating casinos include Bally's, Caesars, Flamingo, Imperial Palace, Paris, Rio and Harrah's in Las Vegas.
Players Card at Bally's Website
Poker Tournaments at Bally's
No Limit Hold'em Poker Tournaments held daily in Bally's Poker Room. Other events include Mega Stack Series.
Poker Tournaments at Bally's
Tennis
Bally's offers eight championship-caliber tennis courts. They are fully illuminated for night play. Private and group instructions are available from experienced tennis professionals.
Bally's Tennis Courts
The Price is Right
Live-audience version of the TV show. Contestants are randomly selected from eligible audience members. Featured are the Showcase, Big Wheel, Race Game, It's In The Bag, Plinko, Cliffhangers and Hole In One. Prizes include cars, vacation packages and appliances, for example. Contestants must be 21+ to play. Anyone under 21 of age may buy a ticket to watch only. Game show is held at Bally's in the Jubilee Theater
The Price is Right Website