Las Vegas Strip Map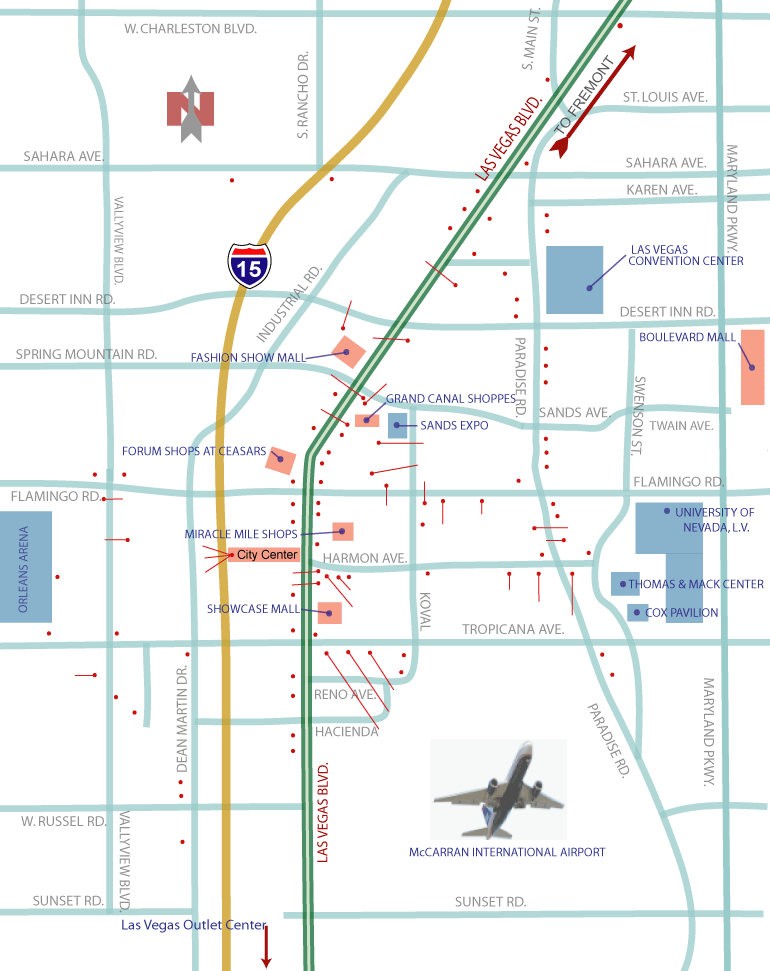 Aria
Alexis
Ambassador
America's Best Value
Artisan
Aruba Hotel & Spa
Atrium
Ambassador Strip Travelodge
Bally's
Bellagio
Best Western Mardi Gras
Best Western McCarran
Bill's Gamblin
Caesars Palace
Cancun Resort
Candlewood Suites
Carriage House
Casino Royal
Circus Circus
Clarion
Comfort Inn
Courtyard
Courtyard
Embassy
Suites
Embassy
Emerald
Suites
Emerald Suites
Tropicana
Encore at Wynn
Excalibur
Extended Stay
Deluxe
Fairfield Inn
Fairfield
Flamingo
Four Seasons
Gold Coast
Hampton Inn
Hard Rock
Harrah's
Desert Rose
Hilton Grand Vac.
Hilton Grand Vac.
Hilton Grand Vac.
Holiday Inn
Hooters Casino & Hotel
Howard Johnson
Hyatt Place
Imperial Palace
Jockey Club
La Quinta
La Quinta
Las Vegas Hilton
Luxor
Mandalay Bay
Mandarin
MGM Grand
Marriot Suites
Marriot Grand
Mirage
Monte Carlo
New York
New York
Orleans
The Palms
Palace Station
Palazzo
Paris
Planet Hollywood
Platinum
Polo Towers
Renaissance
Residence Inn
Residence Inn
Residence Inn
Rio
Riviera
Royal Vacations Suites
Sahara
Signature
Stratosphere
St Tropez
Summer Bay
Super 8
Terrible's
Travelodge
Treasure Island
Tropicana
Trump
Tuscany
Vdara
Venetian
Villa Roma
Westin
Wild Wild West
Wyndham
Wynn Las Vegas

Restaurants
PLANET HOLLYWOOD Restaurants
Koi
Japanese, Seafood "The restaurant is wrapped in a seductive harmony of Asian design elements, combining an exotic Eastern aura with a genuine sense of
Hollywood energy and style."
Koi menu
Koi website "read more"
P.F. Chang's
China Bistro Chinese "This stylish, high-energy bistro combines unforgettable Chinese cuisine and attentive service to create a truly unique dining experience."
P.F. Chang's menu
P.F. Chang's website "read more"
Planet Dailies
American, Seafood "Planet Dailies combines forward thinking design, super-cool technology and
delicious bites 24 hours a day."
Planet Dailies menu
Planet Dailies website "read more"
Spice Market Buffet
(dinner) Mexican, Italian, Asian, Middle Eastern " The Spice Market Buffet features fare from around the world."
Spice Market Buffet website "read more"
Strip House
Steakhouse "Strip House is the only Steak House awarded 4 stars in Forbes Magazine All-Star Eateries 2008, was voted one of America's Greatest steakhouses by GQ magazine in March 2006, won "Best Steak of the Year" by Citysearch in 2006, 2007 & 2008, and was named one of the 10 Best American Steakhouses by Maxim magazine in November 2006."
Strip House menu
Strip House website "read more"
Yolos
Mexican "Walking toward Yolös, before you even arrive, you get the feeling of fiesta."
Yolos menu
Yolos website "read more"
Others at Plant Hollywood: Earl of Sandwich, Starbucks, Pink's Hot Dogs
Miracle Mile Shops at Planet Hollywood
List of Restaurants:

Aromi D'Italia
Blondies Sports Bar &Grill
Chesseburger Las Vegas
Fat Tuesday
Hawiian Tropic Zone
La Salsa Cantina
Lombardi's Romagna Mia
Merchants Harbor Coffee House
Ocean One Bar &Grill
Oyster Bay Seafood & Wine Bar
Pampas Churrascaria Brazilian Grille
Sbarro
Tacone Flavor Gril & Daiquiri Bar
Todai Seafood & Sushi Buffet
Miracle Mile Restaurant Website Directory